Sturdivant inks with Red Wolves
Thursday, November 22, 2012
Jammar "Mookie" Sturdivant of East Poinsett County made it official last Wednesday as he signed his letter of intent to continue his basketball career at Arkansas State University. The EPC gym was packed with friends and family members for this honor.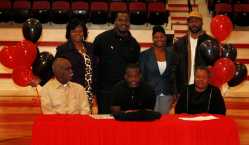 A two-time all-state selection and back to back state champion, Sturdivant is looking to help guide the Warriors for a possible third straight title. Sturdivant was the state tournament most valuable player last year scoring 22 points and grabbing 10 rebounds in the title game against Junction City.
Sturdivant said, "I just want to go to ASU and become a good student and a good basketball player, and I'm just happy this day came for me and may family." "They're proud of me and I'm happy that I accomplished a big goal for myself to become a Red Wolf," Sturdivant added.
"This is a special day and it's the third year in a row we've had a Division I athlete sign," EPC coach Josh Hill said.
Sturdivant, who can play either guard position and has a sweet jump shot, was recruited by Wichita State and Arkansas-Little Rock with Memphis showing interest late in the process.
Sturdivant said his trip to ASU sold him on the program. "Walking on campus, meeting the coaching staff and just talking to everybody it just felt like home because they all loved me and they all wanted me, so that's what really grabbed my attention, talking to the coaches and playing basketball with the players," Sturdivant said. "They just treated me like another player."
Mookie and the Warriors will start their quest for a third straight state title Tuesday the 20th as they play Marked Tree in their season opener.