Dorothy Jones Cooper
Friday, November 30, 2012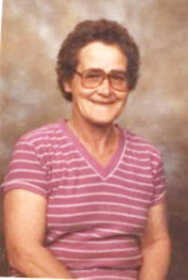 MARKED TREE - Dorothy Jones Cooper was born Feb. 18, 1931, and departed this world Nov. 21, 2012, to go on to glory with her Lord and Savior, Jesus Christ, and all her loved ones and friends who have gone on before her. Dorothy moved from Savanna to the Marked Tree area in the 1940s. She met and married her first husband Sam Jones. They were married for 33 years until his death in 1982. Out of this marriage came their nine children. After Sam's death she married Charles Cooper. Dorothy was married to Charles until his death in 2004. They were married for 19 years. Dorothy worked in the fields with her first husband Sam, who was a sharecropper. After he retired, she went to work at the Singer plant. She worked at several area factories before retiring from Parker Manufacturing in Trumann. Dorothy was a member at Trinity Baptist Church in Marked Tree. She was a faithful member for more than 25 years. Now she is gone on to be with her Lord. Dorothy was a wonderful wife, mother, grandmother great grandmother and friend. She touched many lives in her 81 years on this earth.
She was preceded in death by her husbands, Charles Cooper and Sam Jones; daughter, Vicky Jones; parents, Willie and Mary Etta Haynes; brothers, Alvie Haynes, Ed Haynes, Gus Haynes, Elzo Haynes, R.D. Haynes, Earl Haynes and Melvin Haynes; sister, Fay Goodwin; grandson, Sam Curtis; granddaughters, Mary Ann Jones and Debby Adams; and great- great-grandchildren, Karone Byrd, Haley Reebes and Gage Puckett.
Survivors include Leslie and Carly Hicks and Richie Tate of the home; her daughters, Mary Adams and Sue Faulkner of Trumann and Sammie Hicks of Marked Tree; sons, Mike Jones of Ravenden, Raymond Jones of Niles, Mich., James Jones of Trumann, Clyde Jones of Jonesboro and Curtis Jones of Mobley, Mo.; sisters, Evelyn Collins and Hazel Haynes of Polk City, Fla., and Betty Todd of Masot, Fla.; 19 grandchildren, 67 great grandchildren; 11 great-great-grandchildren; and tons of family and friends.
The funeral service was Nov. 24, 2012, at Trinity Baptist Church. Burial followed at Tyronza Cemetery.
Online guestbook is available at www.rollerfuneralhomes.com.