Remembering school days
Tuesday, December 4, 2012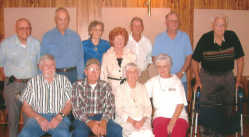 Elese Johnson Price of Tyronza was inspired by the Poinsett County Community Guide 2012: an Historical Education to share her memories from Long Creek School. Price recieved the magazine with her weekly issue of the Poinsett County Democrat Tribune. "A lot of people aren't interested in things like that, but I really enjoyed it," said Price.
After flipping through the pages and finding familiar schools, she found that one of the most important ones in her life was not recognized. Price decided to call the newspaper and share her story.
"It was 72 years ago," said Price. "I started at Long Creek in the third grade when I was 9 years old."
Long Creek was located in the western part of Poinsett County. Price said that schools were closer together, because students walked from home to school everyday in all weather. She remembered the school directors being Clyde Smith, Bill Summers, and Rock Wright.
Price said the school was shared with a church, and students did not have to ever worry about their possessions. "We shared our desks with the Sunday School classes," said Price. "You know, we never bothered anything of theirs and they never bothered anything of ours."
Among her favorite memories is a time she was not allowed to attend school. She said she had to stay home because the school thought she had headlice. While her mother worked to rid the bugs, the school directors came to visit. "Come to find out, it was one of the school director's kids," said Price while laughing.
Another one of her favorite memories of the school was one of the teachers, Ms. Mirth Howard. Price said that Ms. Mirth was always conscious about the girls' skirts in the classroom and sat them in the front of the classroom. "When she sat down, she would always tuck under her skirt," said Price. "She would give us all a look, and we knew we had better do it, too."
While reminiscing, she said it seemed like children used to get along a lot better than they do now.
Price said she believes that 1952 was the last school year at Long Creek. Once a year on the first Saturday in September, the members of Long Creek school reunite. Price said there are fewer and fewer to attend every year, but it is important to all of them. They are all proud to have been members of Long Creek.