Three Rivers resident helps troops
Sunday, December 2, 2012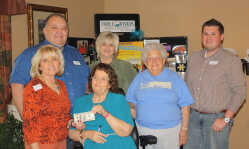 Ernestine Green, a resident at Three Rivers Healthcare and Rehabilitation in Marked Tree, is fulfilling a long-time dream of helping the troops overseas. Green recently set up two boxes in the Three Rivers facility to send to two young men in the army.
"I have always wanted to do this, I just did not know how to get started," said Green.
She has been a resident at Three Rivers for over a year. Initially, Green was admitted for issues with her heart. Since she has been admitted, Green said she has gained a new insight on life due to the quality of care and rehabilitation she has received from Three Rivers.
"Her medical condition has not only improved, her overall mental health and well-being has improved," said Sherry Pearce, Community Outreach and Admissions coordinator. "She is Three River's 'Mover and Shaker' to the other residents."
Pearce said Green encourages residents to be the best they can be and has started several programs at Three Rivers such as a diabetic support/education group, gospel group, and the most recent care package program.
Green said she has always had a servant's heart and been a dreamer. Her project to support the two troops from the community began when CNA/hostess Debbie McClain was speaking with Green about the difficult time McClain's nephews, Brandon and Josh Thompson, are going through. McClain told Green it was hard for them to be away from their families, friends and community.
After listening to McClain, Green began to encourage residents and staff to send cards to these servicemen. She set up a table full of donated Christmas cards and envelopes for anyone to sign. The cards were just the beginning before Green began to think about sending a regular care package for each of the troops.
"I want to let them know how grateful everyone is for what they are doing for our country," said Green.
The Marked Tree Chamber of Commerce heard about Green's project to help the two troops, and worked to be a part of it. Mary Ann Arnold, chamber member, made a motion at the Chamber of Commerce meeting this month to donate $100 for the project. Green was very grateful for the support and the donation from the Chamber of Commerce.
Pearce said after filling the two boxes with personal care items, Green hopes to fill more boxes with any excess that is donated.
Persons wanting to contribute to the care packages may contact Sherry Pearce at Three Rivers, 870-358-2432.