Big final period lifts Bay to win
Friday, November 30, 2012
Bay (10-2) used a big second half last Tuesday night as they came back from 11 down to defeat Trumann 51-48 in boy's basketball action at Wildcat Den.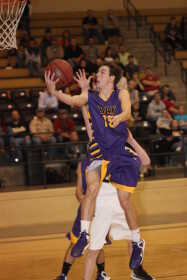 Tyler Pritchett opened the scoring with a bucket less than a minute into the game to give Bay a 2-0 lead. Grayson Dye answered that score with a basket to tie the game. Pritchett and Dye again traded baskets, this time both hitting three-pointers to make the score 5-5 with 6 minutes left in the opening period. Pritchett had the hot hand for Bay as he hit a short jumper for a 7-5 Bay lead. Cameron Jones scored the next five points for Trumann on two baskets and a free throw putting the Wildcats up 10-7. Nathan Maxwell rebounded his own miss and scored while being fouled. Maxwell made the free throw to extend Trumann's lead to 13-7. Pritchett drilled another three-pointer before Tyson Oliver hit a free throw to pull Bay close at 13-11. Dye and Pritchett went at it again with Dye canning a three, Pritchett answering with a three and Dye hitting another three making the score 19-14 Trumann with 1:40 left in the period. Pritchett hit two free throws with 51 seconds left to make the score 19-16. The period ended with the score 19-16. Pritchett had 15 and Dye 11 in that first period.
Maxwell but back a rebound shot and was fouled but missed the free throw giving the Wildcats a 21-16 lead with 7:08 left in the second. Mark Taggart scored down low for Bay to make the score 21-18. Maxwell and Dye hit back to back shots to increase the lead 25-18 for Trumann. Dylan Loven hit a floater in the lane with 2:20 left before Cameron Jones hit a three-pointer from the right corner to set the halftime score at 28-20 Trumann.
Bay sat all its starters but one to start the third period as Trumann opened the period on a 8-0 run with Maxwell scoring off a rebound, A.J. Winningham drilling a three-pointer and Cameron Jones scoring a basket and hitting the free throw after being fouled to put the Wildcats up 35-20 with 6 minutes left in the third period. Taggart scored off a rebound, Maxwell hit one of two free throws and Taggart scored again off a rebound to put the score at 37-24 Trumann with 3:55 to play. Will Turner canned a three-pointer to pull Bay within nine at 37-28. Bay called a time-out after this shot and had their starters back in when they resumed play. Westen Gilliam scored inside followed by back to back buckets by Dylan Loven to make the score 40-31 with 1:35 left in the third. Maxwell and Pritchett traded baskets in the last minute of the period to make the score 42-33 Trumann after three.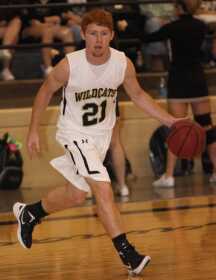 Bay came out smoking in the final period as they went on a 14-0 run to take the lead. Oliver got it started with a lay up, Matt Holt scored the next six points on four free throws wrapped around an inside basket. Oliver gave Bay the lead for good at 44-42 with a three-pointer from the top of circle before Loven added a conventional three point play with 1:56 left for a 47-42 Bay lead. Winningham drilled a three from the left wing to make it 47-45 with 1:28 left to play. Oliver hit two free throws with 48 seconds left and Gilliam scored off a rebound to make it 49-47 with 33 seconds remaining. Turner hit two free throws with 29 seconds left and Maxwell hit a free throw with 14 seconds to play making it 51-48 Bay. Dye got off a three-point shot at the buzzer that bounced off the rim giving Bay the 51-48 win.
"We didn't play defense and they did a good job getting to the rim," Bay coach Brad Brannen said after the game. "They did the right things there at the end of game," Brannen added.
Tyler Pritchett led all scorers on the night with 17 points. Loven chipped in nine for the Yellowjackets.
Maxwell led a trio of Wildcats in double figures with 14. Dye added 13 and Cameron Jones finished with 11.