Yellowjackets cruise to victory to remain unbeaten in league play
Friday, November 30, 2012
Bay (12-2, 2-0 1A-3) jumped out to an early lead and cruised to a 73-31 win over the Cardinals in Weiner this past Tuesday night.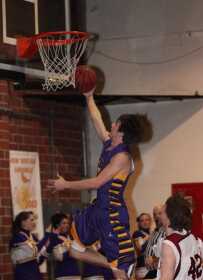 Tyson Oliver scored off a Matt Holt lob pass to start the game and give Bay a 2-0 lead 22 seconds into the game. Tyler Armstrong tied the game for Weiner at 2-2 with a lay up with 7:27 left. Zack Johnson hit a three-pointer before Armstrong scored inside making the score 5-4 Bay. Tyler Pritchett and Armstrong traded free throws before Oliver drilled a three-pointer to give the Yellowjackets a 9-5 lead with 6:22 left in the opening period. Drake Melton hit a free throw before Oliver hit back to back three-pointers putting the score at 15-6 Bay. Alex Jones scored inside for the Cardinals and Dylan Loven hit a runner in the lane for the Yellowjackets making the score 17-8 with 3:58 left. Armstrong scored inside to cut the lead to 17-10. Oliver and Johnson hit back to back shots to push the Bay lead to 21-10. Weiner's Asa Walker hit one of two free throws and Bay's Johnson scored three off a lay up and foul shot to make the score 24-11 Yellowjackets with 2:11 left. Burl Tate and Oliver traded baskets in the last minute to set the score at 26-13 Bay after the first period of play.
Bay used a 16-4 second quarter cushion their lead at halftime. Loven and Armstrong traded baskets in the first three minutes of the second quarter putting the score at 28-15 Bay. Bay went on 10-0 run over the next two and half minutes to push the lead to 38-15. Oliver hit a short jumper, Johnson canned a three, Kylor Skaggs hit a basket and Johnson canned another three from the right wing. Walker stopped the run with a lay up for Weiner with 2:00 left in the half making the score 38-17 Yellowjackets. Holt and Oliver scored a basket each in the last 30 seconds giving Bay a 42-17 lead at the half.
Bay came out the third period and went on a 13-4 run in the opening three minutes to further their lead to 53-21. Alex Nicholson scored a bucket for Weiner before Pritchett nailed a three, Loven scored back to back lay ups and Pritchett scored on a driving lay up. Nicholson broke the run with a lay up for Weiner before Holt scored a basket for Bay. Armstrong made the score 53-23 with a jump shot before Bay reeled off the next six points. Johnson had a steal and lay up, Kail Harris hit a jumper just inside the top of the circle and Skaggs hit a short jumper to make the score 59-23 Bay. Nicholson scored an inside bucket with Harris and Mark Taggart hitting buckets for Bay to make the score 63-25 after three periods of play.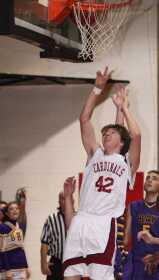 The mercy rule was put into play in the final period. Jake Martin scored a basket for Bay to open the period. Jones got inside for a basket for Weiner at 6:47 making the score 65-27 Bay. Garrett Hampton hit two three-pointers around a Jones basket to stretch Bay's lead to 71-29 with 5:12 left. Chance Edings scored a basket for Bay and Cody Howard scored inside for Weiner to set the final score at 73-39.
Oliver led all scorers with 19 points on the night while pulling down 10 rebounds. Johnson added 16 for Bay. Holt had 12 rebounds.
Nicholson led Weiner with 11 points.
"Early we got the game going faster and that his how this group is going to have to play," coach Brad Brannen said of his Yellowjacket squad. "We executed the break well, spread the floor well and got in the right spots. We made it tough on them and it's always good when you shoot the ball well," Brannen added.
Bay's junior high team improved to 15-0 with a 52-30 win over the Junior Cardinals. Johnathan Crain had 22 points and 11 rebounds and Taylor Layne added 16 for Bay.