Marked Tree students compete for scholarships
Friday, December 7, 2012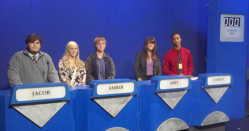 Five students from Marked Tree High School recently participated in WREG's channel 3 Knowledge Bowl, that will air on the morning of Dec. 8. The students competed for prizes including a $200 savings bonds and University of Memphis Scholarships.
Knowledge Bowl is similar to Quiz Bowl, which is practiced in a majority of schools. In a Jeopardy-like setting, two teams with four players each answer scholarly questions. They receive points for each correct question; however, unlike Quiz Bowl, Knowledge Bowl participants have points deducted for each wrong answer they provide.
The Knowledge Bowl competition is played in three parts. The first two segments are each seven minutes focused on 10-point toss-up questions. The third segment is based on current events.
Unfortunately, the third round of the competition threw the Marked Tree competitors off their game. It was based on the current events of Memphis, while they studied the current events of America.
Coach John Kelly, Gifted and Talented Coordinator for the Marked Tree School District, said that his team met three days a week after school to prepare for the Knowledge Bowl competition. At each meeting, the team reviewed 178,000 questions from the Knowledge Master program library. These were computer based question sets that were purchased with funds from the Marked Tree G.T. program.
"The students learn friendly competition through humility and persistence, patience, and dignity through this sometimes humbling experience," said Kelly.
The team was selected by Channel 3 based on its early registration. Kelly said that he received an email during the summer from Channel 3 News stating that the first 30 or so teams to reply, would be chosen for the competition. Kelly said that he chose capable volunteers to make up the team and start practicing. He believes that Marked Tree was the only school from Arkansas to compete in the Memphis Knowledge Bowl.
Abby Beck, co-captain of the team, said that she was proud of the way the team presented themselves. She said that the team worked and communicated well together. "I really think us competing in this says something about our school, and how far we've come," said Beck. Beck is a senior, but she looks forward to watching the rest of her teammates compete again next year.
Kelly said that this experience has taught him that organization pays off. "Holly Ford at Channel 3 presented the participants with all the necessary information so the coaches could prepare the students for the competition," said Kelly. "Each one of the students knew their schedules well enough that we could work with their busy schedules."
He was very proud of his team, and looks forward to doing it again. The same students will be participating in the Arkansas Governor School Quiz Bowl competition.