Fall 2012 Senior Exhibition opens at Bradbury Gallery
Sunday, December 9, 2012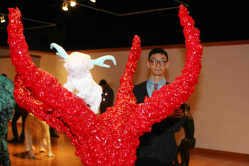 JONESBORO - Hundreds of students will graduate from Arkansas State University in December, but very few have the opportunity to show their stuff like five senior art majors, whose work is currently on display in the fall 2012 Senior Exhibition in Bradbury Gallery.
The exhibiting artists include Trumann resident Charlie Inboden, who works in sculpture.
Opening this week, the exhibition by the graduating art students "is amusing, thoughtful and well-crafted. The type, style and choice of materials each has selected range widely, resulting in a diverse and rewarding exhibition," according to Les Christensen, gallery director. Admission is free.
Inboden is a sculptor whose work is a fantastical and cartoon-like take on alien life. His artwork has been exhibited in the "333 Exhibition" and the "Winter Sculpture Exhibition" in the Dean B. Ellis Library Gallery. Throughout his academic career he repeatedly made both the President's and Dean's Lists and was awarded the grant-in-aid award in sculpture. He will graduate with a Bachelor of Fine Arts degree with an emphasis in sculpture.
Inboden says of his work, "I spent much of my childhood living in my head. Imagination was a useful tool in expanding and stepping out of the bounds of my immediate, tangible reality. The creation of these whimsical creatures serves as a way to bring that cerebrally inclusive world into the physical realm of the present, thus helping to maintain that wonderment and curiosity that was so intrinsic and effortlessly available to me as a child. By manifesting these things in the real world it allows me to capture and, in a sense, transport me to my youth---one of awe and one constructed of speculative fiction, cartoons, and toys. I'm having fun."
The exhibit will continue through Dec. 15. Bradbury Gallery is in Fowler Center at 201 Olympic Drive.
Gallery hours are noon to 5 p.m., Tuesday through Saturday, and 2 to 5 p.m. on Sunday, and by appointment. The gallery is closed on Monday. For additional information contact the Bradbury Gallery at 870-972-3471.