Stirling is guest of Trumann Lions Club
Monday, December 10, 2012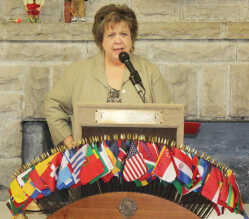 Dianne Stirling, county administrator of the Arkansas Department of Human Services (ADHS), was the speaker at the Trumann Lions Club weekly meeting on Nov. 26.
Stirling said the ADHS was the largest state agency with over 7,500 employees. The agency serves over 1.2 million people annually. The Harrisburg office employs 34 people.
Though there are several services housed at the Harrisburg office, the Division of County Operations processes the Medicaid, Transitional Employment Assistance (TEA) and the Supplemental Nutrition Assistance Program (SNAP).
Stirling says there are 11 case workers available. "We have a good staff who work hard and have a good heart. We treat everyone like we would want to be treated," Stirling said.
To qualify for these programs, the first requirement is to be a United States citizen.
Poinsett County (POCO) had 94 TEA cases in August. Of those, 53 adults and 144 children were involved. POCO received $13,994. In October there were 5,960 SNAP cases bringing $704,567 to POCO, this is roughly 25 percent of the county. Fraud is something the ADHS has to deal with. A first time offense results in a one year suspension of benefits. If a person is convicted of a drug related offense, their benefits are suspended for life.
Stirling said she doesn't know how the healthcare reform will affect them. She said there may be 250,000 new cases added to them.
Medicare categories range from newborn to long term elderly care. DHS pays for 64 percent of babies born and 69 percent of people in nursing homes. There are 800,000 people in Arkansas on Medicaid with 8,000 in POCO, roughly 1/3 of the county population.