Trumann presents Murder in the Magnolias
Saturday, December 8, 2012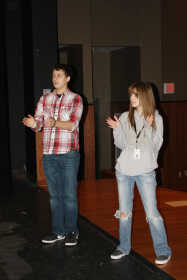 Strange things will be happening in the near future at the Trumann High School auditorium. From murders to musicals, the Drama Club is covering a variety of genres this year with their new cast and crew. The Drama Club will be presenting Murder in the Magnolias at 7 p.m. on Saturday, Dec. 8, and at 2 p.m. on Sunday, Dec. 9.
The club is instructed by Gay Jackson, a part-time teacher at Trumann High School. Although this is her first year at Trumann, it is not her first year in theatre. "I have really enjoyed being involved in High School theatre again," said Jackson.
Getting ready for the production of Murder in the Magnolias has been an unforgettable experience for most of the cast and crew. Jackson said that her Drama class, along with Drama Club members, have been working on the set for weeks.
"My character is really different from my usual personality," said Deven Parrish, cast member in the play. "It's really helped me to be more outgoing."
Parrish has been a member of the Drama Club for three years, with this being one of the most interesting plays she has done. Her character in the play is Princess Lotta Kargo. "She is a weird, washed up movie star who thinks that everyone loves her," said Parrish. "She is really out there."
Jackson said that the action of the play takes place in a rundown plantation house that is inhabited by very bizarre characters. After one of them dies, the coroner declares it to be a murder. When relatives of the deceased gather for the reading of the will, other murders occur throughout the play.
"The characters in the play are loosely based on interesting characters in old southern plays," Jackson said.
Skylar Jones, director's assistant for the Drama Club, said that this is one of her favorite aspects of the play. "It's a very broad play with all of the different characters, and everyone can relate and find humor in it," said Jones.
One of Jones' main jobs as director's assistant is to be there for the encouragement and help of her fellow club members. She said that she loves the Trumann Drama Department, because it gives people a chance to grow and bond as actors.
Murder in the Magnolias has a cast consisting of ten students: Keragan Nance, Kelsey Deford, Kylie Deford, Thiago Nolla, Colton Mann, Michael Nebeker, Kaitlyn Deford, Deven Parrish, Dustin Hanna, and Michaela Maxwell. Stage managers are Morgan Boyd and Lacie Devers, with Skylar Hamilton as props manager.