Hicks inks with WBC
Sunday, December 9, 2012
Macy Hicks made a lifelong dream come true last Thursday as she signed a letter of intent to continue her softball career at Williams Baptist College in Walnut Ridge.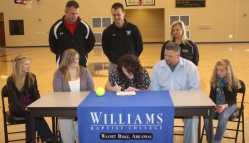 Hicks is a three time all-conference selection, two time best under the sun and played in the Junior Classic. Hicks batted .388 with 35 hits and 26 runs batted in her freshman year, .471 with 41 hits and 21 runs batted her sophomore year and .359 with 37 hits and 37 runs batted in last season.
"Macy deserves this, she's been a big part of our team over the last three seasons," Trumann softball coach Brian Haynes said.
Hicks said she loved everything about her visit to the college. She said she's wanted to play at WBC since she was a kid.
WBC Coach Eric Newell had this to say about Hicks, "She is a confident player. She's a good athlete who will help us both offensively and defensively. You had her being excited about coming here...that's dangerous because there is no limit on what she can do." "Right now I just want her signature on that piece of paper," Newell anxiously said.
When asked what this day meant to her, Hicks said, "It means a lot to me. I'm glad I have this accomplishment and through God I will have four more years of softball after high school. Thanks to dad and mom for getting me here."
With her senior year of softball coming up, Hicks commented, "I think we will have a good season. I just want to do whatever it takes to help the team."