Red Wolves win second straight Sun Belt title
Sunday, December 9, 2012
Arkansas State's Red Wolves made it look easy this past Saturday as they captured their second straight Sun Belt Conference title with a 45-0 win over Middle Tennessee State University at Liberty Bank Stadium in Jonesboro.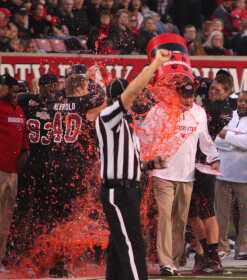 ASU used a balanced offensive attack to produce 512 yard of total offense. The Red Wolves rushed for 274 yards and passed for 238. The Red Wolves had three touchdowns come from the ground game and three from the passing game. ASU held MTSU to 203 yards of total offense allowing 89 yards on the ground and 114 through the air.
The Red Wolves got the board with 12:22 left in the opening quarter. Senior quarterback Ryan Aplin kept the ball and scored from four yards out to make it 6-0. Junior kicker Brian Davis was good on his first of six extra-points. Junior David Oku scored the next points for ASU rushing in from nine yards out to make it 13-0. Senior Nathan Herrold's interception set up this score. Davis made it 14-0 with 7:05 left. Senior Josh Jarboe grabbed a six-yard pass from Aplin as time expired in the first quarter. The Red Wolves went up 21-0 with Davis' extra point.
ASU took advantage of a turnover on downs as Aplin hit junior Julian Jones with a 59 yard touchdown pass on the first play after the turnover. Davis made it 28-0. Sophomore Rocky Hayes made it 34-0 with 23 seconds left until half with a 12 yard run. Davis was again good to send the Red Wolves to half with a 35-0 lead.
The Red Wolves added a touchdown in the third quarter and a field goal in the fourth quarter to finish out the scoring. Senior Kedrick Murry had a six-yard touchdown pass from Aplin at the 9:49 mark of the third. Davis made it 42-0 with the point after. Davis connected on a 21 yard field goal with 14:49 left in the game to close out the scoring.
Oku led the Red Wolves in rushing with 102 yards on 19 carries. Aplin gained 64 yards on six carries, Hayes had 61 on 12 carries and freshman Fredi Knighten added 45 yards on seven carries.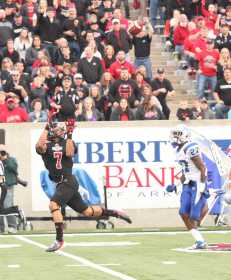 Aplin completed 19 of 21 passes for 283 yards and three touchdowns. Freshman J.D. McKissic led the team in receiving with eight catches for 60 yards. Jarboe, Murry and Jones had touchdown receptions.
Herrold led the Red Wolves defense with 10 total tackles, five solo, and an interception from his linebacker position. Junior defensive lineman Dexter Blackmon also had an interception.
The Red Wolves record stands at 9-3 overall and 8-1 in conference. ASU will face Kent State in the GoDaddy.com bowl in Mobile, AL on January 6th, 2013.