Indians fall in opening round of Hurricane Classic
Sunday, December 9, 2012
Marked Tree faced off against the defending champion Jonesboro Hurricane in the night cap of the first round of the annual Barry Pruitt Hurricane Classic in Jonesboro last Thursday. Jonesboro stormed out to 26-10 first period lead and coasted to a 73-21 win over the Indians.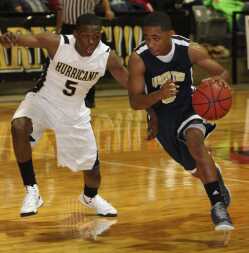 Aaron Washington of Jonesboro opened the game with a basket less than a minute into the period. Darius Ivy hit a floater to tie the score 2-2 at 7:03. The Hurricane's reeled off the next seven points on a three-pointer from Kenyatae Woods and back to back baskets from Kahron Ross on a jump shot and basket off a steal for a 9-2 lead with 5:50 left. Marked Tree called time out to try and right the ship and came out and cut the lead to three on a Buchanan basket inside and an Ivy driving lay up making it 9-6 with 4:50 remaining. Malcolm Lockhart of Jonesboro had back to back scores on a short bank shot and an inside basket before Ivy scored inside for Marked Tree to make it 13-8. Washington started an 11-0 run for Jonesboro with a put back basket at 3:18. Lockhart and Tony White scored on back to back lay ups, Randle Toliver drilled a three-pointer from the left wing and White scored off a fast break forcing the Indians to take another time out to regroup at 1:37 with the score 24-8 Hurricanes. Woods of Jonesboro hit two free throws with 38 seconds left and Ivy scored inside with 9 seconds to go in the opening period to set the score after one to 26-10.
Jonesboro came out still on fire as they opened the period with 10-0 run to push the lead to 36-10. Marquise Pointer and Toliver both had tip in baskets, Lockhart, Toliver and Ross all scored off passes from steals. Ivy stopped the run at 3:47 with an inside basket to make the score 36-12. Ivy added a free throw a minute later before Toliver got away for a one hand slam dunk. Hurricane's Pointer scored on a put back at 2:31 then drilled three-pointer at 1:50 pushing the lead to 43-13 at halftime.
The Hurricanes kept the pressure on to start going on a 12-0 run. Pointer drained a three at 6:50, Keith Williams scored a fast break bucket, Toliver hit a three-pointer, White made a pair of free throws and Williams scored inside to finish off the run. Ivy again was the stopper as he scored inside at 2:47 to make the score 55-15. Williams scored again on the fast break before Marked Tree's Terry Carter made a driving lay up with 1:21 left making the score 57-17. Williams hit a short jumper for the 'Canes with a minute left. Ivy hit a free throw with 48 seconds left and Jarma Perkins made a three-pointer with five seconds to give the Hurricanes a 62-18 lead after three.
The fourth period was played under the mercy rule due to the Jonesboro lead. Jaffe York for Jonesboro hit a runner in the lane to open the scoring. Buchanan hit one of two free throws with 7:22 left to make the score 64-19. Brandon James made a free throw for Jonesboro and Connor Fields hit a bucket for Marked Tree to make it 66-21. Martin Stafford scored back to back buckets for the Hurricanes on a jump shot and a three-pointer to push the lead to 51-21. Perkins closed the scoring with a basket with 35 seconds left making the final 73-21 Jonesboro.
"We didn't play well and I think we got a little intimidated from them (Jonesboro) jumping on us early," Marked Tree coach Barbara Wilburn said after the game. "Darius (Ivy) was running on 10 and it seemed everyone else was on two. We are better than what we showed," Wilburn added.
Ivy led all scorers with 14 points for Marked Tree. Jonesboro's Toliver had 12 points, Lockhart finished with 10 points and Pointer also had 10 points.