EPC falls in meeting of state champs
Sunday, December 9, 2012
The EPC Warriors, back to back 2A state basketball champions, played the Clarksville Panthers, back to back 4A state basketball champions, in the opening round of the annual Barry Pruitt Hurricane Classic at Jonesboro High School last Thursday. After a close opening period, the Panthers used a 19-8 second period to open a double digit lead they would never give up.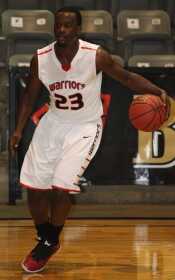 Jerren Thompson opened the game for Clarksville scoring on an alley-oop lay up for a 2-0 Panthers lead. Jammar "Mookie" Sturdivant answered with a three-pointer to give EPC the lead at 3-2 with 6:49 left in the opening period. Kenderick Lee answered for Clarksville with a three-pointer giving the lead back to the Panthers at 5-3 with 5:42 left. Dederick Lee increased the Panthers lead to 7-3 with a lay up at the 5:20 mark. Sturdivant made a shot while being fouled but couldn't covert the three point play to leave the score at 7-5 with 4:06 remaining. Malik Monk hit a three-pointer followed by a put back shot from Byron Scales to give EPC a 10-7 lead with 3:02 left. Dederick Lee made another lay up and Kenderick Lee sank a three to close out the period giving the Panthers a 12-10 after one period of play.
The Panthers opened the second period with a 12-2 run to go up 24-12. Dederick Lee hit a floater lane before Freddy Lee hit three-point bombs from each corner of the court. Deven Simms got inside for a basket and Freddy Lee hit a soft floater with 3:38 left. Sturdivant got inside to score a basket at 3:23 before Kenderick Lee scored on a lay up to give the Panthers a 26-14 lead. Sturdivant hit a fall away jumper and then a nice left handed floater in the lane to get EPC to within eight with 1:05 left before half. Dederick Lee got free for a lay up and Freddy Lee hit a three from the right quarter with less than a minute to play to set the halftime score at 31-18.
Freddy Lee opened the third quarter for Clarksville with a three to push the lead to 34-18. Sturdivant scored inside and Monk followed with a break away two hand slam to cut the lead to 34-22. Dederick Lee scored the next five for Clarksville on a three-pointer from the left wing and a lay up with 6:14 left making the score 39-22. Monk hit a jumper at 4:57 to make the score 39-24. Simms tipped in a basket before Paul Pilgrim scored a conventional three-pointer at 4:22 to cut the lead to 41-27. Thompson hit a jumper for Clarksville before Sturdivant nailed a three from the left wing and Aaron Scales hit one of two free throws putting the score at 43-31 with 1:50 left in the third period. Dederick Lee got free for another lay up and Simms slammed it down off an alley-oop for a 47-31 Panthers lead. Simms was issued a technical foul for hanging onto the rim. Sturdivant hit one of the two free throws from the technical foul at 1:08 followed by two Byron Scales free throws with 48 seconds left cutting the lead to 47-34. Kenderick Lee for Clarksville put the Panthers up 16 at 50-34 with a three-point basket at the buzzer ending the third period.
Clarksville opened the fourth period with a 9-0 run to push the lead 25 at 59-34. Thompson started the run with a dunk , Simms hit a short jumper, Freddy Lee bombed in a three-pointer and Thompson scored on a fast break lay up with 5:33 left. Sturdivant hit back to back shots with a lay up and three-pointer from the left wing to make the score 59-39. Simms slammed another home off a pass off the backboard from Freddy Lee putting the score at 61-39 Clarksville. Chris Whitfield of EPC hit a three-pointer with 3:36 left before Aaron Ashlock got a rebound basket to make the score 63-42. EPC's Quinn Young hit a three-pointer then stole the inbound pass and scored making the score 63-47 Panthers. Dylan Green drilled a three-pointer for Clarksville from the left with for a 66-47 lead. Whitfield scored on a lay up before Young hit one of two free throws with 1:37 left leaving the score at 66-50. Clarksville scored the last four points of the game to set the final at 70-50.
"We didn't play well tonight," EPC coach Josh Hill said after the game. "I'm excited about our team and I think we'll be fine in February. Our youth showed tonight," Hill added.
Sturdivant was the leading scorer on the night with 24 points. Clarksville's Freddy Lee led four Panthers in double figures with 17. Dederick Lee added 15 points, Kenderick Lee scored 11 points and Thompson finished with 10 points.