Lady 'Cards take second in Pre-Holiday Tourney
Sunday, December 9, 2012
Weiner's Lady Cardinals played the Lady Bearcats of Brookland this past Saturday night in the championship game of the girls Pre-Holiday Tournament in Brookland. The Lady Bearcats used a swarming press defense to take home the title 46-34.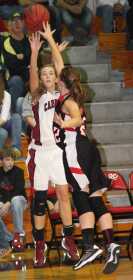 Brookland jumped out to a 6-0 lead in the first three minutes of the game and never looked back. Jordan Maynard hit a jumper to start the scoring at 6:21 of the first. Cali Milligan sank two free throws before Kayla Kee rebounded her own miss and scored. Kaci Mack got inside to get Weiner on the board at 4:30 to make the score 6-2. Kee scored off a rebound basket at 4:03 and Allegra Melton scored inside at 3:39 cutting the Lady Bearcats lead to 8-4. Milligan hit a short jumper for Brookland at 2:42 to put Brookland up 10-4. Mack got one of two free throws to fall with 1:20 left in the first and Kee made the score 12-5 Brookland with a basket with 33 seconds left.
Brookland got off to another fast start in the second period scoring the first seven points to extend their lead to 14. Maynard hit a three-pointer 18 seconds into the period followed by a basket down low by Milligan and a basket by Maynard off a steal. Weiner called a time out to stop the rally. Weiner responded after the time out with a 6-0 run as Lexi Smith hit two free throws at the 6:24 mark making the score 19-7. Melton got inside for Weiner to cut the lead to 10 at 19-9 before Smith hit a short jumper to make it 19-11 with 5:21 left in the period. The Lady Bearcats answered the Lady Cardinals run with a 6-0 over the next minute and a half. Milligan hit a basket followed by a lay up from Samantha Flowers and a jumper from Nicole Ross to push the lead back to 14 at 25-11. Weiner reeled off seven straight points to cut the lead to seven with a minute left in the first half. Melton got inside with 3:23 left for a basket, Peyton Craft hit two free throws at 2:02 and another at 1:34 to make the score 25-16. Hunter Lewis made a lay up with a minute left before Maynard made a shot with 38 seconds left to send the teams to halftime with Brookland up 27-18.
Brookland came out the second and hadn't cooled off a bit as they used a 13-0 run to start the second half and go up 40-18. Brookland's Milligan hit a lay up and was fouled at the 6:39 mark. Milligan's free throw made the score 30-18. Maynard scored on back to back lay ups pushing the lead to 16 at 34-18 Brookland. Flowers drained a three-pointer before Maynard hit one of two free throws at 4:13 giving the Lady Bearcats a 40-18 lead. Craft got inside stopping the run with a basket to put the score at 40-20 with 3:52 left. Lewis was fouled and hit one of two free throws at 3:12 making it 40-21 Brookland. Mack hit a basket at 2:55 and Craft scored with two seconds left in the third to make it 40-25 headed into the fourth period.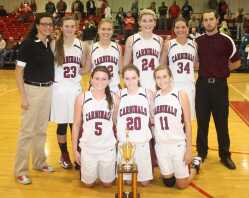 The fourth period was a back and forth scoring affair between the teams. Mack drilled a three-pointer to start the period and cut the lead to 12 at 40-28 with 7:47 left. Kee got free for a lay up at 7:02 making the score 42-28. Craft hit two free throws with 4:27 left only to see Flowers hit a short jumper in lane making it 44-30 Brookland with 3:12 left. Lewis got a lay up basket with 2:52 only to have Flowers respond with an inside basket at 2:07 to put the score at 46-32. Craft hit a basket with 30 seconds left to set the final at 46-34 and give Brookland the title.
"Their pressure got our offense out of sync," Weiner coach James Halitza said after the game. "We didn't set up or get in the right spots tonight," Halitza added.
Peyton Craft led Weiner in scoring with 11 points. Brookland's Maynard led all scorers with 16 points. Milligan chipped in 11 for the Lady Bearcats.