Ford reinstated as Marked Tree Police Chief
Friday, December 14, 2012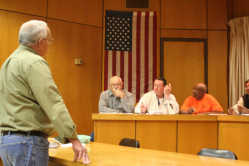 Chester Ford, who was terminated from his position as Marked Tree Police Chief by Mayor Wayne Nichols in September, was reinstated this week after calling for a re-vote from the city council now that empty position on the council has been filled. Six aldermen voted in favor of the reinstatement, with Michael Scott and Mary Smith abstaining.
During the October council meeting, Mayor Nichols said the firing stemmed from an ongoing disagreement over the number of police officers needed. When the issue of reinstatement went to the council for a vote, those in favor of reinstatement did not have a two-thirds majority, though one seat had been vacated in September. Following the October meeting, the council met at a special meeting to appoint James Williams to fill the vacant position.
Following the reinstatement, the council also approved an amendment to the personnel policy that reads, "When a supervisor or department head deems it necessary to dismiss an employee -- the employee may be sent home for up to five days, with pay until the City Council has been notified."
The council also discussed the proposed 2013 budget. Alderman Shane Glenn said that the budget looked good but that the council needed to look into making more cuts because the town is not growing.
"We need to take into consideration how to cut the budget," Glenn said. "The town is not the same as it was ten years ago even. I've been here 12 years, and I can see the decline in the city and the decline in business."
Glenn added that budget cuts would be crucial to improving the streets and water lines and challenged the council to review the proposed budget and come up with possible cuts. Mayor Nichols said he would cut his salary by 20 percent, from $15,000 to $12,000.
The council will look at the budget again next month to propose cuts. The budget must be approved by Feb. 1.
In other business, the council:
* heard from Cora McQuire regarding money she spent to clean her water line when the problem ultimately turned out to be with the main water line. The council voted to compensate her for half of what she paid.
* approved a resolution for refinancing a 2207 sales tax bond, which will save the city $11,000 a year.
* approved accepting ownership of the armory building.
* approved the sale of an old fire truck for $1,950.
* reviewed the 2011 legislative audit.