Owner donates Maxie to Fine Arts Council
Sunday, December 16, 2012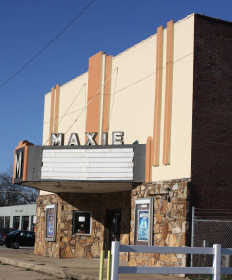 The Maxie Theatre was recently donated to the Trumann Fine Arts Council. Owners Pauline Noel, and the late Jack Noel, felt that this would be the most beneficial action to take for the community.
"I just wanted to give back to Trumann what they have given me for the past 53 years," said Pauline Noel. "The Fine Arts Council will have things that benefit the whole community."
Noel said that giving it to the Fine Arts Council was like giving it to the whole city.
"We intend to keep it the way it is within the confines of it being on the National Register," said Erin Coggins, member of the Fine Arts Council. "We want to maintain the integrity of the building." Coggins said that they want to clean up the Maxie to suit their needs.
The future plans for the building are to show films suitable for different age groups. The council intends to show plays and musicals. Coggins said that it has been suggested that they may possibly rent it out for events.
"Of course, this is all just ideas," said Coggins. "We haven't really decided anything for certain."
Coggins said that the only thing they know at this point is that they will benefit the community with the new building. The members have always looked for ways to help out the community. Coggins said that the Fine Arts Council helps to get grants for Trumann, because they are a group of people reaching out to the community. Recently, the council held their annual meeting at the First Baptist Church in Trumann with the Trumann Choir as entertainment. "We usually try to look for local talent to showcase," said Coggins. "That's what we will want to recognize mostly in the new building, as well as, some surrounding talent."
The council is brainstorming ideas for the Maxie to appeal to different interest groups within Trumann. Coggins said that this is what they usually do, but the new facility will enable them to perform on a larger scale.
Of course, the council members are only discussing ideas at this point amoung themselves. They do not anticipate the project beginning until after the new year.
The Maxie Theatre was built in 1946 by John Hurd and Zell and Lonnie Jaynes. It opened on Aug. 20, 1947, with a matinee performance. At the time, the Maxie was one of the most modern, state-of-the-art theatres in northeast Arkansas. It has been operated by the Noels since 1962.
In April 2011, it was placed on the National Register of Historic Places. According to the Arkansas Historic Preservation program, it was nominated to the National Register under Criterion C with local significance for its Art Deco design.