Underhill talks bees with Lions Club
Tuesday, December 18, 2012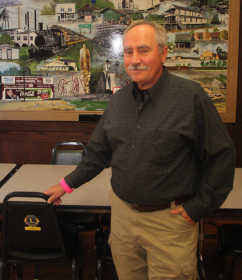 The weekly meeting of the Trumann Lions Club started off with a couple of presentations. Sandy Teague was awarded a pin for bringing in three new members in 2011-12 and Michael Scrape received his new member pin from Wayne Hinds.
Richard Underhill from Peace Bee Farms in Proctor was the quest speaker and told the Lions Club about bee keeping and his trip to Ethiopia.
Underhill is a beekeeper who keeps bees in Arkansas, Mississippi and Tennessee. He said the Delta of Arkansas was one of world's major honey producing areas with Ethiopia being another.
Underhill told of his trip to the horn of Africa to teach bee keeping. The Winrock International group sent him on a farmer to farmer program.
He said the region he was in was twice the size of Texas and had one quarter of the population of the United States. Addis Ababa was where he stayed.
He said a lot of the bee hives there were kept up in trees, sometimes over 100 feet up, and the men would climb the trees at night to check the hives.
Bee keeping is a major market there. In the United States there are 1850 commercial bee keepers with 20,000-30,000 others who work bees. There are two and a half million colonies of bees in the United States. That number is four times greater where he visited.
Beekeeping doubles the income of those who work the bees. The honey is organic due to the fact there are no chemicals used in the processing.
Underhill said the beeswax they produce is some of the finest there is. He said he can run his through his method of making five or six times and not produce the quality they do.
Underhill said he enjoyed the time he was there and made new friends.
To learn more about the Peace Bee Farm, go to www.peacebeefarm.blogspot.com.