Bay holds off Brookland
Friday, December 14, 2012
Bay hosted Brookland in boys' high school basketball this past Tuesday night. Bay was slow coming out of the gate, righted the ship about midway through the first period and then answered each time the Bearcats made a rally to win 63-54.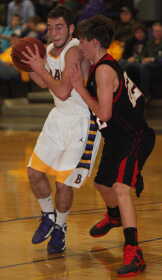 Brookland's Chandler Thompson opened the scoring with a three-pointer at the 7:04 mark of the first period for a 3-0 Bearcats lead. Tyson Oliver got Bay on the board hitting one of two free throws after being fouled making it 3-1 with 6:56 left. Zack Johnson hit a left handed runner to pull the 'Jackets to withing two at 5-3 with 5:34 remaining. Brookland got back to back three-pointers from Thompson and Devon Newton to push the Bearcats lead to 11-3 with 4:05 to go. Oliver scored the next five points on a lay up and three-pointer to cut the lead to 11-8. Matt Holt scored on a rebound basket to make it 11-10 with 2:40 left in the opening period. Brookland pushed the lead back to five as C.J. Henry scored on a lay up and #34 got the offensive rebound and scored with 2:05 left. Johnson scored on a lay up while being fouled at 1:49 to make it a 15-12 Brookland. Johnson's free throw was good to cut it to 15-13. Will Ballard got inside for Brookland for a basket with 34 seconds left as Dylan Loven scored off an offensive rebound to make the score 17-15 Brookland after one period of play.
Oliver tied the game at 17 with two free throws less than a minute into the second period. Henry hit a bank shot in the lane and was fouled giving the Bearcats a 19-17 lead. His free throw was good making the score 20-17. Loven got inside to score a basket with 6:40 left making it 20-19. Oliver game Bay it's first lead with 5:27 left in the half as he took an offensive rebound and went the length of the floor making a nice left handed scoop shot while being fouled. Oliver's free throw made it 22-20 Bay. Brookland's Tyler Hudson tied the game up at 22 with a basket at 5:05. Bay went on a 9-0 run over the next two minutes to give them a 9 point lead. Loven connected on a three-pointer, Kylor Skaggs and Loven scored on back to back inside buckets before Oliver hit two free throws to make 33-21 Bay with 2:50 left in the second period. Henry drilled a three for Brookand with 2:26 left to cut the lead to 31-25. Skaggs worked his way inside for another basket was fouled with 1:11 left. Skaggs couldn't convert the three-point play leaving the score 33-25 Bay. Thompson nailed a three-pointer for Brookalnd with 42 seconds left in the period to set our halftime score at 33-28 Bay.
Brookland opened the third period with back to back baskets from Ballard and Newton to cut Bay's lead to one at 33-32. Oliver got a jumper in the lane to fall pushing the lead to three at 35-32 Bay. Dillon Groves got inside to score a basket for the Bearcats making it 35-34. Holt hit two free throws followed by Skaggs hitting one of two to make the score 38-34 'Jackets. Groves tied the game up at 38 with back to back inside buckets with 3:28 left. Loven scored the next five points on a three-pointers and a fall away jumper making it 43-38 Bay with 2:02 left. Brookland's Henry hit one of two free throws with 1:24 remaining to make it 43-39. Oliver hit a running jumper with 1:08 left to give Bay a six point lead at 45-39. Henry drilled a three-pointer with 54 seconds left making it 45-42 Bay headed into the final period.
Skaggs hit a jumper for Bay to make the score 47-42 Bay with 7:43 left in the game. Thompson cut the lead to two with a three-point shot at 7:20 for the Bearcats. Oliver got inside for a basket making the score 49-45 Bay. Gaylen Akin hit a runner in the lane and Henry hit a jumper from the top of the key to tie the game up at 49 with 5:33 left. Skaggs made a nice reverse lay up under the basket with 5:23 left giving the 'Jackets a 51-49 lead. Henry hit one of two free throws for Brookland at 4:48 to make it 51-50. Bay went on an 11-0 run over the next two and a half minutes to put the game out of reach. Tyler Pritchett got inside for a basket before drilling a three-pointer from the left corner to make 56-50 Bay. Holt and Oliver hit two free throws each and Loven ended the run with a conventional three-point play with 1:42 left giving Bay a 13 point lead at 63-50. Brookland scored a couple baskets in the last minute as Clayton Hales hit a jumper and Tyler Hudson scored off a rebound to set the final at 63-54 Bay.
Oliver led the way for the Yellowjackets scoring 22 points and grabbing 11 rebounds. Loven added 17 for Bay.
Henry led the Bearcats with 15 points as Thompson had 12 points for Brookland.
"Besides the first four minutes of the game, I thought we came back and played well, especially on the the defensive side of the ball," Bay coach Brad Brannen said after the game. "I think the guys finally grasped the concept of what we were trying to do. We opened with a zone and then switched to man to man, which looks like the way to go with this group," Brannen added. "Skaggs gave up a big lift off the bench scoring nine points and Oliver had another good game. We did a great job of answering each run they (Brookland) made and we played good defense in the fourth period."
Bay won the junior high game 54-37.