Kenneth Ira Dunman
Friday, December 14, 2012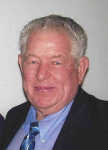 LAKE CITY - Mr. Kenneth Ira Dunman, 67, departed this life while walking with Jesus on Wednesday, Dec. 5, 2012, at NEA Baptist Memorial Hospital in Jonesboro. Mr. Dunman was born in Lunsford to the late Charles and Betty Sutterfield Dunman. Ken was a retired farmer and banker. He taught vocational agriculture at Bay High School for many years, and was a member of the NEA Angus Association and member of the First Baptist Church in Bay.
Mr. Dunman was preceded in death by his parents.
He is survived by his wife of 45 years, Judy G. Slinkard Dunman of the home; three sons, Nathan Dunman (Amiee) Keiser, John Dunman (Christie) of Trumann, and Justin Dunman (Jenni) of Ola; one daughter, Donna Dunman Cobb (Mark) of Paragould; one sister, Jan Tiner of Lunsford; eight grandchildren, John Taylor, Jr., Olevia Claire, James, Natalie, Riley, Katie, Garrett, and Camdon.
Funeral services were Dec. 8 at Bay First Baptist Church with Rev. Phillip Rodgers and Rev. Danny Taylor officiating. Burial followed in Jonesboro Memorial Park Cemetery in Jonesboro with Thompson Funeral Home of Trumann in charge.
Pallbearers were Danny Blalock, Mike Dunman, Lance England, Donnie England, Donny Rodgers, Jimmy Rodgers, Carbert Rodgers, and Damon Slinkard.
Honorary pallbearers were Charles Ritter, Keith Taylor, Jerry Davidson, Myles Evans, J.C. Bland, Tommy Hill, The NEA Angus Association and the Men's Sunday School Class of Bay First Baptist Church.
An online register book can be signed at www.thompsonfuneralhome.net.