Marie Hitson
Friday, December 14, 2012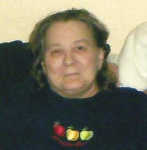 MARKED TREE - Marie Elizabeth Hitson of Marked Tree passed away at the age of 73. Mrs. Hitson was born to Henry Richards and Nora Ann Klutts Richards Jan. 23, 1939, in Trumann. Mrs. Hitson was a homemaker and a Baptist.
She was preceded in death by her parents and her husband Jack Hitson.
She is survived by daughters, Kiyla Hitson and Linda Hicks, both of Marked Tree, and Julia Wray of El Dorado; son Christopher Hitson of Marked Tree; sisters, Gracie Privett of Trumann, Donnie Starling and Elaine Rollins, both of Pendleton, S.C.; brothers, James Richards of Bay, Willie Richards of Jonesboro and Clayton Richards of Trumann; grandchildren, Terri Hicks, Erin Hebard, Joseph Hicks, Mykhala Zeiler, Jessica Hunter, Sarah Wray, Vanessa Atwell and Jo Beth Wray; and great-grandchildren, Landon Hebard, Benjamin Hebard, Kamryn Zeiler, Mykatlyn Hunter, Jake Atwell and Sydney Wray.
Funeral services were Dec. 11 at Wilson Funeral Home in Tyronza followed by burial in the Marked Tree Cemetery. Bro. James Rains and Bro. Lynn Vinson officiated at the service. Pallbearers were Johnathan Holly, Allan Hall, Eddie Richards, Adam Kary, Dustin Zeiler and Ramon Alfaro.
Honorary pallbearer was Chad Hunter.
Wilson Funeral Home of Osceola was in charge of arrangements.