Literacy League of Poinsett County commends volunteers
Friday, December 21, 2012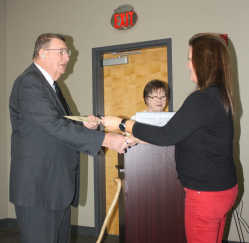 The Literacy League of Craighead, Green, and Poinsett Counties recognized 18 volunteers on Friday, Dec. 14, with a Tutor Appreciation Luncheon held at Ritter Communications in Jonesboro. The lunch was held in honor of the volunteer tutors of the Literacy League who make the community a better place to live by unselfishly giving of their time to help other adults improve their basic reading and math skills.
Former mayor of Jonesboro and Literacy League board member Hubert Brodell presented the tutors with a certificate of appreciation for their outstanding contribution to the counties of Craighead, Green, and Poinsett. The Literacy League has a goal to eliminate illiteracy in these counties by providing teaching services and supplies free to adults 18 and older. The league is a non-profit organization with the tutors receiving no compensation for their services.
Phyllis Rambin, director of the Literacy League, said that the tutors work one on one with the tutees. This individualized tutoring provides a customized learning process to all participants. Placement tests are taken by the adults at the beginning to the program to further customize the tutors' teaching to their needs.
Rambin gave a brief speech on how the Literacy League caters to the needs of the illiterate. She said that many people do not why understand adult education is in place when everyone has 12 years of free school under their belt. "It's not easy for an adult to stand and say 'I don't read'," said Rambin. "But everyone's path is different and unique."
Rambin, a retired teacher, shared a story of a previous student she had that confronted her with a serious issue at home that prevented him from performing his best at school. "There are sometimes factors beyond our control, and this is why there are adults out there that cannot read," said Rambin. "All individuals are different."
Rambin commended the tutors efforts on educating adults and by making the program very successful. She said that the Literacy League has been fortunate enough to expand with new locations in Greene and Poinsett County. Previously, the the Literacy League of Craighead, Greene, and Poinsett Counties were operated out of one location in Jonesboro. Rambin explained that the one location has been responsible for the education in all three counties for years, and she is excited for the new expansion to take place. The move was made possible by a grant provided by the Arkansas Adult Education Department.
"As we move forward with this expansion, it is imperative that we show support," said Rambin.
The new site in Poinsett County will be in Trumann at the Intermediate School.
"We are all very thrilled to have a new satellite site in Trumann," said Seth Casey, site director for Poinsett County.
Casey said that until now, the Literacy League has lacked a presence in Greene and Poinsett counties. The Literacy League hopes to fill this void after the beginning of the new year. Casey hopes to see everything done by the second week of 2013.
"Going into Greene and Poinsett County will provide more educated people in these areas, and also better lives," said Brodell. "We need support in every way possible."