Taber raises Christmas money for families with handmade wreaths
Monday, December 24, 2012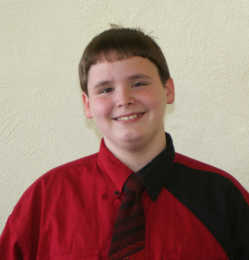 When 11-year-old Ryan Taber of Trumann found out that two families he knew weren't going to have the money to celebrate Christmas this year, he wanted to do something to help them. He came up with the idea of making wreaths and selling them to raise money for the families.
Using simple household objects like coat hangers, white garbage bags, garland, and ornaments Ryan started making wreaths. It took him five days to get the first one done, but after that, things went much more quickly. In two days, Ryan and his father, Michael, made 35 wreaths.
Ryan said that when they started selling the wreaths, what he was doing spread by word of mouth and people took an interest in them. So many people wanted to buy the wreaths, he ended up raising $229.
"We did it to help two families who wouldn't have Christmas," Ryan said. "One of them started crying when I gave them the money."
He said they didn't want to accept the money at first, but after he convinced them, they hugged and blessed him.
Ryan plans to expand the project next year with the help of a website his father will set up to take donations.