Wildcats fall in triple overtime thriller to Cave City
Monday, December 24, 2012
Trumann hosted Cave City in a 4A-3 conference match up this past Friday in boys' high school basketball action. Trumann jumped out early before Cave City fought back. The game was tied after 32 minutes of regulation play and the teams played another 12 minutes of overtime before Cave City used a big third overtime to post a 86-75 victory.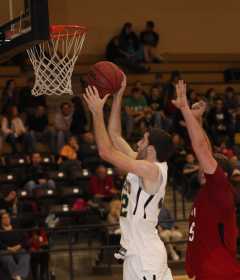 Trumann jumped out to a 4-0 lead with Cameron Jones getting inside for a basket at 7:04 and Grayson Dye stealing the ball and making a lay up with 6:39 left in the period. Cave City's Chaz Matthews scored down low and was fouled at 6:25 to go. Matthew's free throw made it 4-3 Wildcats. Jones hit a jumper for Trumann followed by a jumper from Grant Walling of Cave City to make the score 6-5 Trumann. Denzel Brown got an inside basket and A.J. Winningham hit a jumper to make it 10-5 Trumann with just over four minutes to play in the first period. Matthews got another inside basket for the Cavemen before Dye drilled a three-pointer and Brown tipped in a rebound with 1:27 left putting the Wildcats up 15-7. Seth Downs cut the lead to five with a three-pointer with 1:10 left and Westen Gilliam hit one of two free throw with eight seconds left to make it 17-10 Trumann after one.
Cave City cut the lead to three in the first minute of the second period as Matthews and Wallace scored on inside buckets making it 17-14. Winningham responded with a three-pointer for Trumann followed by a jumper from Alvin Caudilla and an inside bucket from Matthews making it 20-18 Wildcats. Jones scored off a Dye steal and pass before Winningham hit a soft bank shot from the left side to push the Trumann lead to six at 24-18. Matthews and Justin Hunter both made a free throw to cut it to four only to see Nate Maxwell score inside followed by a Winningham three-pointer to make it 29-20 Trumann. Walling got free for a lay up before Winningham hit a long three-pointer and Dye scored on a lay to make it 34-22 Trumann with 2:34 left before half. Cave City scored the last six points of the half to cut the lead to six as Walling hit a jumper, Matthews scored off a rebound of his own miss and Walling got inside with 33 seconds left. Trumann took a 34-28 lead in the locker room.
Cave City opened the third period with a 7-0 run to take the lead at 35-34. Hunter started it off scoring on a lay up with 6:10 left, Matthews scored inside and was fouled. Matthews' free throw was good to covert the three-point play. Walling hit a driving lay up to cap the run. Trumann responded with a 10-2 run to go up by seven with 2:10 left in the period. Maxwell scored inside for the Wildcats before Matthews grabbed an offensive rebound and scored for the Cavemen. Dye and Winningham hit back to back three-pointers before Winningham made two free throws with 2:20 left to make it 44-37 Wildcats. Walling scored the last five points of the period to make it 44-42. Walling hit one of two free throws and made two baskets in the last 53 seconds of the period, the last basket coming at the buzzer off an inbound pass.
The fourth period saw both offenses pick up the pace. The teams traded baskets over the first three minutes of the period. Walling scored off a rebound for Cave City to be answered with a three-pointer from Winningham. Walling got inside for a score before Jones hit a short jumper. Walling scored off an offensive rebound only to see Jones answer with another jump shot to make it 51-48 Trumann. Walling continued his hot hand for Cave City by scoring the next six points. Two trips to the free throw line netted Walling three points before he got inside for a bucket and was fouled. Walling made the free throw to put the score at 54-51 Cavemen. Maxwell made a lay up off a nice pass from Jones and Walling hit one of two free throws to make it 55-53 Cave City with 2:08 left in the game. Jones put Trumann up 58-55 by scoring the next five points on a jump shot and lay up while being fouled. Jones' free throw was good. Down and Winningham each hit two free throws for their teams to make it 60-57 Trumann before Downs canned a three-pointer with 19 seconds left to tie the game. The game ended at 60-60 forcing an overtime period.
Both offenses kept rolling in the first overtime as Winningham hit a jumper and Maxwell made two free throws to put Trumann up 64-60 with less than a minute into the four minute overtime period. Matthews scored off a rebound for Cave City followed by Caudilla's three-pointer to make it 65-64 Cave City with 1:47 left. Winningham hit a three-point bomb to make it 67-65 before Walling hit a free throw and Hunter scored on a lay up to give Cave City a 68-67 lead with 44 seconds left. Westen Gilliam was fouled and made of one of the free throws to tie the game with 20 seconds left. Cave City's Walling was whistled at the buzzer for an over the back foul on Gilliam with no time left on the clock. Gilliam went to the line with a chance for the win but missed both free throws to send the game to a second overtime.
The second overtime was a long sluggish period as only four point were scored. Dye scored a bucket with 2:02 left and Matthews scored inside thirty seconds later tying the game at 70. The teams would need a third overtime to try and get a winner.
Cave City opened the third overtime with a 6-2 run that all but sealed the game. Matthews scored inside, Downs had a steal and lay up and then Downs sank two free throws to put Cave City up 76-70. Gilliam hit one of two free throws with 2:09 left to put the score at 76-71. Cave City hit four of six free throws over the next minute with Downs and Hunter each making one and Caudilla making two to extend the lead to 80-71 Cavemen. Jacob Brumley hit a short bank shot for the Wildcats to make it 80-73 with 59 seconds left. Matthews was fouled and hit two free throws as was Caudilla who also made both his free throws stretching the lead to 84-73. Dye hit a driving lay up with 24 seconds for the Wildcat before Cave City's Caudilla hit two free throws with 18 seconds left to set the final score at 86-75.
"I was proud of our effort tonight," Trumann coach Skip Dulaney said after the tough loss. "The breaks did not go our way there at the end. We just need to keep working and getting better," Dulaney added.
Winningham led Trumann with 27 points on the night. Jones and Dye added 15 and 14 points respectively for the Wildcats. Maxwell had 10 rebounds for Trumann.
Cave City had five players in double figures. Walling and Matthews both scored 25 points for Cave City followed by Downs with 13 points, Hunter with 12 points and Caudilla with 11 points.