Marked Tree rallies to beat Bay
Monday, December 24, 2012
Marked Tree got their first lead of the game with 55 seconds left in the game and held on to beat the Bay Yellowjackets 80-79 in Marked Tree this past Monday night in high school boys' basketball action.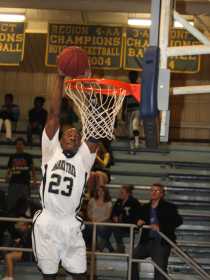 Bay got out to a quick lead as Tyler Pritchett scored on a lay up and then drilled a three-pointer to put Bay up 5-0 a little over a minute into the game. Zack Johnson's lay up a minute later forced Marked Tree to call a time out at 5:57. The Indians got back to back buckets from Darius Ivy after the time out as he was fouled on the second basket. Ivy made the free throw to make it 7-5 Bay with 4:28 left to play in the first period. Bay pushed the lead back to six as Dylan Loven scored inside and Tyson Oliver hit a floater in the lane at 2:44 making it 11-5 Yellowjackets. Buchanan scored a basket for the Indians before Bay's Matt Holt canned a three-pointer from the right corner for a 14-7 'Jackets lead. Ivy scored on a short jumper with 1:17 left and Loven got inside for a basket with 40 seconds left setting the score at 16-9 after one period of play.
The second period was a see-saw scoring battle as the teams traded baskets throughout the period. Oliver got the scoring started with a jumper in the lane only to see Buchanan answer with a lay up making it 18-11 with 7:05 to play. Loven it a floater before Oliver made two free throws to put Bay up 22-11 with 5:36 left. Terry Carter hit two free throws for Marked Tree before Pritchett was fouled while shooting a three-pointer and made all three of his free throws to put Bay up 12 at 25-13. Buchanan had a steal for a break away two-handed slam dunk at 4:27 making it 25-15. Loven got an offensive rebound and scored, Carter got inside for Marked Tree to score and Oliver hit another floater to make the score 29-17 Bay with 3:28 until half. The Indians went on an 8-0 run the next minute and a half with Carter getting inside for a bucket, Buchanan made two free throws, Ivy hit a jumper and Carter scored off an offensive rebound to make it 29-25 in favor of Bay with 1:39 left. The teams literally traded baskets for the remainder of the period. Loven hit a short jumper for Bay, Ivy answered with a coast to coast lay up, Oliver scored off a rebound from a missed shot, Ivy got in for another lay up, Oliver hit a jumper in the lane for Bay, Carter was fouled and hit two free throws and with four seconds left, Loven took the inbound pass and the full length of the court for a lay up at the buzzer to make it 37-31 Bay at the half.
The third period was much the same as the second as the team combine to put 49 points on the board. Pritchett drained a three from the top of the key to get things started at 7:48. Buchanan scored back to back baskets as he got inside for a score and then slammed it home off an alley-oop from Ivy to make it 40-35 Bay. Oliver hit a jumper from the free throw line before Dee Crockett hit a three-pointer at 6:12 to make it 42-38 'Jackets. Loven had a stick back basket before Oliver scored back to back on a runner in the lane and short bank shot to push the lead to 48-38. Buchanan scored off an offensive rebound, Holt made a lay up off nice feed from Oliver and Buchanan dunked another home to make the score 5-42 Bay with 4:15 left in the period. Ivy made off a pass from Keland Perry steal and Loven got a lay up for Bay to make it 52-44. Perry drilled a three-pointer to be answered by Oliver with a three-ball only to be matched by Crockett with a three-pointer cutting the Bay lead five at 55-50 with 2:31 left. Ivy converted one of two free throws for Marked Tree before Holt got an offensive board and scored to put the Bay lead at six 57-51. Ivy made a driving lay up with 1:17 to play as Oliver scored the next five points for Bay with a short bank shot and a runner in the lane while being fouled. Oliver made the free throw to make it 62-53. Buchanan got a basked off an offensive rebound with four seconds to send the teams to half time with Bay leading 62-55.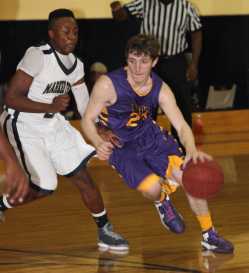 Kedrick Tyler hit a short jumper for Marked Tree with 7:26 left in the game to cut the Bay lead to five at 62-57. Kylor Skaggs got inside for a 'Jacket basket before Ivy drains a three-pointer to make it 64-60 Bay with 6:31 left. Oliver made four straight free throws to push the 'Jackets lead to eight at 68-60. Pritchett stretched the Bay lead to 10 with a fast break lay at 5:18. Buchanan scored off a rebound of a missed shot and Ivy drilled a three-pointer to make it 70-65 Bay. Loven got inside for a bucket, Daniel Rucker canned a three for Marked Tree, Holt hit two free throws for Bay, Buchanan made a free throw and Loven hit a soft jumper over the next minute and a half to set the score at 76-69 Bay. The Indians reeled off the next seven points to take their first lead of the game. Ivy was fouled with three minutes left and made one of two free throws before he scored a lay up off a fast break. Buchanan scored the next five with a short jumper and sinking three of four free throws to make it 77-76 Marked Tree. Ivy stole the ball from Holt and wad fouled by Holt with 17 seconds left. Ivy made the first free throw to put Marked Tree up two at 78-76. Ivy missed the second shot and Buchanan came up a big offensive rebound and then scored with 10 seconds left making it 80-76. Loven drilled a three-pointer with four seconds left to cut the lead to one at 80-79. Marked Tree ran out the clock to post the 80-79 win.
"We played D (defense) like we should play D tonight," Marked Tree coach Barbara Wilburn said after the game. "We rebounded a lot better, especially in the second half. The kids played hard," Wilburn added.
Buchanan and Ivy both scored 28 points for the Indians with Buchanan collecting 10 rebounds on the night. Carter pitched in 10 points for Marked Tree.
"We weren't well prepared tonight and didn't execute down the stretch," Bay coach Brad Brannen said of his team. "It's my fault for not having them prepared," added Brannen.
Oliver led all scorers with 30 points for Bay. Loven followed with 23 points and Pritchett had 13 for the Yellowjackets.