Inmate who escaped sentenced to six years
Saturday, December 29, 2012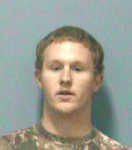 A man who slipped out the window before a court appearance in August has been sentenced.
Chad Costner, 24, of 19520 Raby Road, Harrisburg, was in court last week to face charges after his attempted escape in August. Costner pleaded guilty to third-degree escape and breaking and entering. Circuit Judge David Laser sentenced him to six years in prison. Costner was fined $1,500 and ordered to pay $470 in court costs. He also received credit for 183 days already served.
According to the Poinsett County Sheriff's Office, on Aug. 14 Costner was one of four inmates being transported from the jail area of the detention center to the courtroom when he escaped. Costner asked to go to the bathroom. "The jailer instructed him he would have to wait because the other inmates couldn't be left alone," Sheriff Larry Mills said. "Costner ran through the door to the jury room, opened a window, and jumped out the window."
Deputies searched for Costner, who was seen running into the woods off Highway 163 by residents. On Aug. 15, deputies captured Costner in a mobile home north of Harrisburg. Costner was taken into custody without incident.
Costner had been incarcerated since Aug. 8 on charges of residential burglary, theft of property, and criminal trespassing.