Cedar Park invites family for Literacy Night
Tuesday, January 1, 2013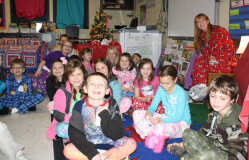 Cedar Park Elementary invited family and friends to a Literacy Night on Thursday, Dec. 20. Various classrooms were full of students, teachers, and parents through out the school. Superintendent Myra Graham was present, giving her support of the activity and moving from room to room within the school observing the various stories read.
"It really gives us an opportunity to have the culture of family within the school," said Jennifer Jaynes, Cedar Park Elementary Principal.
Jaynes said that the parents, staff, and students had an opportunity of fellowship, prior to the reading segment of the night, where they enjoyed hot chocolate and cookies. Excited students and parents were present in the comfort of their pajamas to listen to the stories.
Teachers got creative with the technology in the school and read stories off of projectors in the dark with dimly lit Christmas lights in the background.
"I think it's pretty cool and fun," said Cloe Walker, a third grader at CPE.
Many parents found the time with their child in their everyday school environment as rewarding for the child and themselves. "It's great for the parents to get involved," said Tammy England, mother of first grader Noah England. "I really enjoyed the opportunity, and so did my son."
At the end of the night, each student recieved a book as a Christmas gift from the school. "We did this to nurture the children's reading," said Jaynes. "We want to encourage reading as much as possible."