Marked Tree wins NEA opener
Saturday, December 29, 2012
Marked Tree used a big second and third period to down Sloan-Hendrix 60-37 in the boys Division 1 of the NEA Invitational Tournament being held at the Convocation Center in Jonesboro last Thursday.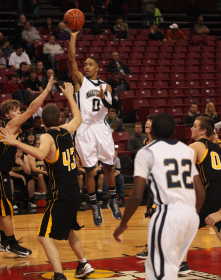 Daniel Rucker, Darius Ivy and Terry Carter each hit a free throw in the first minute and a half of the opening period to go up 3-0. Ivy stretched that lead to 5-0 with a driving lay up with 5:36 left. Chris Taylor got Sloan-Hendrix on the board at 5:20 with a jumper making it 5-2. Kyle Murphy cut the lead to two hitting one of two free throws for Sloan-Hendrix making it 5-3. Chris Montague grabbed an offensive rebound and hit a short jumper in the lane for a 7-3 Indians lead. Allen Buchanan hit a jumper for Marked Tree to make it 9-3 and Montague snuck inside on an inbound pass for a basket to stretch the lead to 11-3. Murphy hit a free throw with just over a minute left in the first to make it 11-4 and Taylor hit a jumper with 28 seconds left to make it 11-6 after one period of play.
Ivy scored a fast break basket and Buchanan slammed a one-handed dunk to make it 15-6 with 6:18 to go in the second. Blake Bennett got a basket down low while being fouled at the 5:25 mark. Bennett's free throw was good to make it 15-9 Marked Tree. Tyre Wofford drilled a three-pointer for Marked Tree only to see Keith Saylors answer him for Sloan-Hendrix to make the score 18-12. Connor Fields scored on two lay ups around an Ivy lay up to push the Indians lead to 24-12. Wofford canned another three from the top of the key to make it 27-12 Marked Tree. Buchanan made a basket down low and then hit two free throws to push the lead to 17 at 31-12. Zeb Gibson hit a three for Sloan-Hendrix to make it 31-15 with 2:09 left before half. Toby Lee got a shot to fall to cut the lead to 31-17. Buchanan hit a free throw with 1:44 left to set the half time score at 32-17.
Buchanan was fouled less than a minute into the third and hit one of two to push the score to 33-17. Murphy scored on lay up for Sloan-Hendrix only to see Ivy score on a lay up to make it 35-19 with 7:18 left in the period. Carter got inside for a basket and was fouled. Carter's free throw made it 38-19. Taylor hit a basket for Sloan-Hendrix making it 38-21 with 5:17 left. Buchanan and Taylor swapped inside baskets making it 40-23 before Buchanan dunked over Gibson and was fouled with 4:06 left. Buchanan made the free throw pushing the lead to 43-23. Murphy got a basket for Sloan-Hendrix to make it 43-25 before Ivy made two free throws and Saylors drilled another three to make it 45-28. Buchanan hit a free throw at 3:06 and followed that with a one-handed slam at 2:40 to make the score 48-28. Taylor hit a free throw and Kedrick Tyler and Tyler Booth traded offensive rebound baskets to put the score at 50-31. Buchanan took a pass off an Ivy steal and threw down a monster two-handed slam with 1:10 left in the third to make it 52-31. Montague hit two free throws with 34 seconds left making it 54-31 after three periods of play.
Tyler canned a three-pointer to open the fourth period and make it 57-31. Bennett hit a free throw and Jordan Johnson hit a jumper to cut the lead to 57-34 with 2:10 left. Dee Crockett hit a three for the Indians to make it 60-34. Murphy hit a basket and was fouled with 40 seconds left. Murphy hit his free throw to make the final 60-37.
"We started out slow and didn't play very well at the beginning of the game," Marked Tree coach Barbara Wilburn said of her team after the game. "We switched our defense to man to man and we picked our game up," Wilburn added.
Buchanan led in scoring with 20 points followed by Ivy with 11 points for the Indians. Taylor led Sloan-Hendrix with 10 points on the night.
Marked Tree advances to play December 26th at 7:30 against Ridgefield Christian.