Lady Wildcats ousted by BIC
Saturday, December 29, 2012
The Trumann Lady Wildcats and Buffalo Island Central (BIC) Lady Mustangs met in the first round of the girls' Division II NEA Invitational Tournament last Thursday at the Convocation Center in Jonesboro. Trumann jumped out to a first period lead before BIC used a big second period to take the lead and go on to a 57-34 win.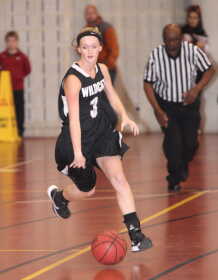 The game's first 12 points were all scored on the long ball. Hannah Walters opened the scoring for Trumann with a three-pointer at 6:43 for a 3-0 lead. Cidnie Brooks answer for BIC with a three-pointer to tie it 3-3 at 6:04. Kelly Guthrie and Walters hit back to back three-pointers to make it 9-3 with 3:50 left in the opening period. Morgan Taylor scored back to back baskets with a jumper and runner in the lane to push the Lady Wildcats lead to 13-3. BIC's Cassidy Qualls hit a three to make it 13-6 with 2:23 to play. Megan McGowan pushed the lead to 15-6 with a jumper for Trumann with just over a minute left. Karoline Thomas got an inside basket for BIC with 43 seconds left and Qualls hit two free throws with less than a second left to make it 15-10 Trumann after the opening period.
Guthrie stretched the lead to 18-10 when she canned a three-pointer with 7:07 left. BIC cut the lead to three as Hannah Poe netted a three-pointer and Brittany Stockton made two free throws making it 18-15 with 6:06. Madison Greathouse tied the game at 18 on the Lady Mustangs' next possession with a three-pointer. Morgan Taylor put Trumann up two at 20-18 with a basket off an offensive rebound at 4:21. Emily Owens scored the next six points for BIC as she scored and was fouled at 3:31. Owens' free throw was good making the score 21-20 BIC. Owens was fouled at 3:09 and made both free throws and fouled again at 2:30 making one of two free throws to push the Lady Mustangs' lead to 24-20. The next minute of action saw who could shoot free throws as the teams combined to make eight free throws. Walters hit two for Trumann with 2:28 left to make it 24-22. Katelyn Sparkman and Owens each hit two free throws to push the BIC lead to 28-22. McGowan made two free throws to make it 28-24 at 1:50. Brittany Fowler hit a three-pointer with 1:28 left and then hit two free throws with 1:20 left to make the score 33-24 BIC. Owens and Qualls both made a pair of free throws each in the last minute of the second period to make it 37-24 Lady Mustangs at the break.
The third period saw a scuffle between Morgan Taylor and Cassidy Qualls after both went after a loose ball. Morgan was kicked and responded by throwing two punches at Qualls. Double technicals were issued and Taylor was ejected from the game. When play resumed the Lady Mustangs went on 10-3 over the last five minutes of the period to go up by 20. Jodiee Clay canned a three-pointer at 4:47 followed by Owens hitting one of two free throws to make it 41-24. Guthrie hit a three form the top of the key making it 41-27 with 3:34 to play. BIC scored the last six points of the period as Owens got inside for a score, Qualls hit two free throws and #14 hit two free throws to make it 47-27 after three periods of play.
#14 scored inside for BIC to open the final period and stretch the lead to 49-27. Jessica Burnside made two free throws for Trumann making it 49-29. Rachel Goldammer got an offensive rebound and scored making it 51-29. McGowan drilled a three-pointer from the top of key to cut the lead to 51-32. Bailey Owens hit a free throw before Shania Junyor scored inside with 1:36 left to play to put BIC up 54-32. Guthrie hit a short jumper for Trumann and Megan Webster hit a three-pointer for BIC to set the final score at 57-34.
Guthrie led Trumann in scoring with 11 points. Emily Owens scored 15 points for BIC.