Weiner tumbles in opening round of NEA
Saturday, December 29, 2012
The Weiner Cardinals squared off against the Walnut Ridge Bobcats in a boys Division I NEA Invitational Tournament opening round game last Friday at the Convocation Center in Jonesboro. The game was a back and forth battle with Walnut Ridge scoring the last six points of the game to claim a 58-52 win.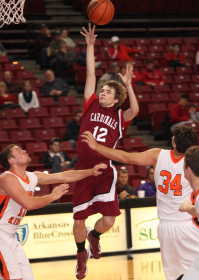 Weiner jumped out to a 4-0 lead as Alex Jones hit two free throws at 7:36 and Tyler Armstrong scoring off an offensive rebound at 5:27. The Bobcats scored the next seven points to go up 7-4. Zach Crisler got inside for a lay up, Cole Hicks got inside for a score and Hunter Flippo canned a three-pointer from the left wing with 4:03 left. Drake Melton tied the game for Weiner with a three-pointer from the left corner at 3:44. Flippo netted a three-pointer with 3:13 before working himself inside for a basket at 2:07 for a 12-6 Walnut Ridge lead. Asa Walker hit a running jumper with 1:07 before Tyler Cronin grabbed a defensive rebound and went the length of the court for a basket as time expired in the first period with the Bobcats holding a 12-11 lead.
Walnut Ridge stretched the lead to six as Crisler hit a jumper at 7:43 and Range Weeks drained a three-pointer with 5:28 to play to make it 17-11. Jones hit a jumper in the lane for Weiner to make it 17-13 only to be answered with an offensive rebound basket from Hicks making it 19-13 with 4:52 to play. Weiner went on an 8-0 run over the next three minutes to take the lead back at 21-19. Melton got inside before Jones hit one of two free throws before hitting a jumper at 2:03. Burl Tate buried a three from the left corner to give Weiner the lead. Crisler tied the game at 1:16 with two free throws and Alex Nicholson sent the Cardinals to half with a 23-21 lead as he rebounded his own miss and scored with 54 seconds left.
Crisler tied the game for the Bobcats at 7:33 with an inside basket making it 23-23. Logan Bray gave Weiner the lead back with two free throws at 7:13 making the score 25-23 Weiner. Eric Wilcoxson hit a jumper in the lane for Walnut Ride to tie the game at 25. Armstrong got an offensive board and scored while being fouled. Armstrong missed the free throw but Nicholson got the rebound for Weiner and scored to make the score 29-25 Cardinals. Nicholson was fouled and hit one of two free throws with 6:18 left putting score at 30-25 Weiner. Payton Poole scored a bucket inside for Walnut Ridge to make it 30-27 before Walker got a fast break lay up and Nicholson scored inside for the Cardinals pushing the lead to 34-27. Walnut Ridge went on an 8-2 run to cut the lead to one with 1:48 left in the third. Matt Cox hit two free throws after being fouled for Walnut Ridge before Melton pulled down an offensive rebound and scored for Weiner making it 36-29. Hicks got a bucket and Cox added two buckets all in the paint to make it 36-35. Nicholson made the lead three with a basket inside for Weiner making it 38-35. Wilcoxson hit a free throw and Cox scored down low Weiner to tie the game at 38. Cox made the free shot to put the Bobcats up 39-38 with 30 seconds left. Nicholson scored inside with 15 seconds left to give the Cardinals a 40-39 lead after three periods.
Weeks gave Walnut Ridge the lead with a three-pointer with 7:30 left in the period. Melton hit both free throws after being fouled to tie the game at 42 only to have Crisler can a three-pointer to put the Bobcats up 45-42 with 6:50 left. Flippo got inside for a lay up making the score 47-42 Walnut Ridge. Bray and Crisler traded a pair of free throws a piece to make it 49-44. Armstrong made two free throws after being fouled and Melton tied the game at 49 as he drilled a three-pointer from the right corner for Weiner. Crisler gave the Bobcats a one point lead at 50-49 with a free throw before Tate got inside to give the lead back to Weiner at 51-50. Crisler gave the lead back to Walnut Ridge with two free throws making it 52-51. Melton tied the game for Weiner hitting one of two free throws with 1:11 left to play. Walnut Ridge scored the last six point of game, all on free throws, to post a 58-52 victory. Wilcoxson hit one of two with 1:04 left, Crisler hit two free throws with 32 seconds left, Wilcox on again made one of two with 19 seconds left and Crisler made two more free throws with 9 seconds left.
"Silly fouls and lack of rebounding hurt us at the end," was all Weiner coach James Halitzka commented about the game.
Melton scored 13 points Weiner and Nicholson had 11points.
Crisler led all scorers with 20 points and Flippo added 10 points.