Bay advances to semi-finals in NEA action
Saturday, December 29, 2012
The Bay Yellowjackets used a huge second period to build a double digit lead and never look back as they defeated Walnut Ridge in the second round of the boys Division I NEA Invitational Tournament this past Saturday at the Convocation Center in Jonesboro.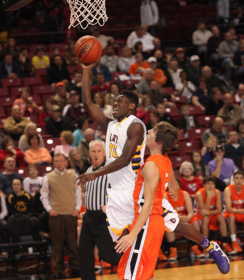 Bay opened the game with 8-0 run as Dylan Loven had a steal and lay up and was fouled. Loven's free throw was good to make it 3-0. Tyson Oliver got inside and scored at 7:25 to make it 5-0. Oliver sank a three-pointer at 6:36 to put Bay up 8-0. Cole Hicks was fouled and hit for Walnut Ridge to make the score 8-1. Hunter Flippo drilled a three for the Bobcats to cut the lead to 8-4. Oliver made a lay up to put the 'Jackets lead to six at 10-4. Hicks hit a jumper for Walnut Ridge at 3:53 to make it 10-6. Oliver hit a shot in the lane and was fouled on the play. Oliver' free throw was good making the score 13-6 Bay. Crisler cut the lead to 13-9 with a three-pointer at 2:35. Zach Johnson grabbed a defensive rebound and drove the floor and scored making it 15-9 Yellowjackets. Crisler and Flippo hit back to back three-pointers to tie the game at 15 with 52 seconds left in the period. Loven got inside for a basket to give Bay a 17-15 lead at the end of the first period.
Matt Cox tied the game at 17 as he got an offensive rebound and put it back in at 7:10. Loven hit a three at 6:22 putting Bay back up 20-17. Cox and Crisler scored back to back baskets to give Walnut Ridge their first lead at 21-20. Matt Holt and Oliver followed with back to back three-pointers and Tyler Pritchett and Loven scored on back to back fast break lay ups to put Bay back out in front at 30-21. Crisler scored a basket to make it 30-23 Bay with 2:39 left. Bay closed the period on an 11-0 run to push the lead to 18. Loven got the run started with a three-pointer and then scored inside to make it 35-23. Oliver, Loven and Holt hit consecutive lay ups to make it 41-23 at the half.
Walnut Ridge came out the third period and scored the first seven points to cut the lead to 11. Cox got inside for a score, Weeks canned a three-pointer from the left corner and Cox hit a short jumper to make it 41-30 with 6:07 left. Loven got Bay on the board with jump hook at 5:52 followed by an inside basket from Kylor Skaggs to make it 45-30 Bay. Weeks netted a three-pointer for Walnut Ridge to make it 45-33. Bay pushed the lead to 19 as Johnson nailed a three-pointer and Skaggs scored back to back buckets on a lay up and an inside score making the score 52-33. Hicks got inside for Walnut Ridge to make it 52-35 before Loven made a three-pointer making it 55-35 at 1:42. Cox scored off an offensive rebound for the Bobcats putting the score at 55-37. Holt and Crisler traded three-pointers to make it 58-40 with 42 seconds left. Loven made a basket with 18 seconds left and Oliver hit a shot at the buzzer making it 62-40 at the end of three.
Oliver made a basket and was fouled less than a minute into the fourth period. Oliver's free shot was good stretching Bay's lead to 65-40. Flippo hit a three-pointer for Walnut Ridge making the score 65-43 at the 6:40 mark. Oliver hit a shot in the lane and was again fouled . Oliver's free throw was good again making it 68-43 'Jackets. Crisler hit a three-pointer for Walnut Ridge then made two of three free throws after being fouled shooting a three-pointer to make it 68-48 with 5:47 left. Loven got inside to make it 70-48 Bay. Cade Prince scored a basket at 2:50 for Bay and Garrett Crisler hit a free throw with 49 seconds left to set the final at 72-49.
"We didn't play bad defensively, we gave up to many offensive rebounds," Bay coach Brad Brannen said after the game. "You have to give them (Walnut Ridge) credit, they hit some tough shots tonight. The Crisler kid was making them while we had a hand in his face," Brannen said.
Loven led all scorers with 26 points and Oliver added 23 points for Bay.
Zach Crisler had 18 points for Walnut Ridge with Cox chipping in 10 points.
Bay will play their semi-final game on Friday, Dec. 28th at 4:30.