Lady Indians advance to semis
Thursday, January 3, 2013
The #1 seed Marked Tree Lady Indians finally played their first game of the girls Division 1 NEA Invitational Tournament being held at the Convocation Center in Jonesboro. Scheduled to have played on Dec. 26th, Mother Nature dumped a wintery mix of sleet and now forcing the game to played Dec. 28th. The Lady Indians advanced with a 62-47 win over Walnut Ridge and will face Weiner in one semi-final matchup.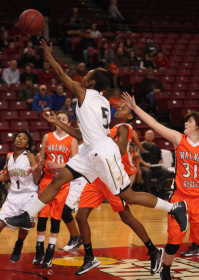 Caroline Kelley scored the first points of the contest as she worked inside for a basket and a 2-0 Lady Bobcats lead. Lexi Perry scored inside for Marked Tree and was fouled making it 2-2. Perry's free throw was good to give the Lady Indians a 3-2 lead with 7:28 to play. Lexi Perry grabbed an offensive rebound with 7:01 left and put it back in to make the score 5-2. Poohnu Perry scored on back to back baskets to make it 9-2 with 5:33 left. Walnut Ridge's Tiye Flowers made it 9-3 after hitting one of two free throws after being fouled. Jay Perry made it 11-3 with two free throws before Holly Looney got inside for a basket and Audrey McElrath hit two free for the Lady Bobcats to make it 11-7. Lexi Perry got another offensive board and scored to make it 13-7 Marked Tree. Anna Bland hit one of two with 2:02 left and McElrath both hit one of two free throws with 52 seconds left to set the first period score at 13-9 Marked Tree.
The Lady Indians stretched the lead to nine with Kambria Marshall hit a jumper at 6:56 and Poohnu Perry made a lay up and was fouled at 6:33. Perry's free throw made it 18-9. Kelley hit two free throws for Walnut Ridge making it 18-11. Lexi Perry got a sweet pass from Poohnu for a basket at 5:41 to push the score to 20-11. Poohnu and Kelley traded jumpers to make it 22-13 and then traded jumpers again to make it a 24-15 game with 3:39 to play. Dezarae Reel got an offensive rebound and scored to extend the lead to 11 at 26-15. McEltath and Hannah Massey hit back to back baskets for the Lady Bobcats to make it 26-19 with 2:36 left. Kelsey Pitts was fouled while shooting and then hit both her free throws to make it 28-19 Marked Tree at 2:28. Walnut Ridge scored the last six points of the period to make it 28-26 at the half. Ashlyn Cothren drilled a three-pointer, Massey rebounded her own miss and scored before McEltrath got inside with 22 seconds left. The teams went to have with the score 28-26 Marked Tree.
Caflora Hillis opened the second half scoring hitting two free throws less than a minute into the third period to make it 30-26 Lady Indians. Massey scored inside for Walnut Ridge at 7:10, Jay Perry hit one of two free throws for Marked Tree before Massey went full court for a score to make it 31-30 with 6:36 left. Allyson McQuay gave the Lady Bobcats the lead at 6:05 when she made a lay up to make it 32-31. Jay Perry and Massey traded scores making it 34-33 Walnut Ridge. Poohnu got a defensive rebound and drove the length of the court and was fouled on her shot attempt. Perry made one of two to tie the game at 34 with 5:12 remaining. The Lady Indians reeled off the next nine points to make it 43-34. Lexi Perry was fouled and hit one of two free throws, Jay Perry canned a three, Poohnu got a steal and lay up before Jay Perry canned another three at 3:48. Massey got a jumper in the lane to fall for Walnut Ridge at 3:!4 to make it 43-36. Hillis got inside and made a lay up for the Lady Indians at 2:30 making it 45-36. McElrath hit one of two free throws for the Lady Bobcats before Jay Perry hit a short jumper at 1:34 to make it 47-37 which was the score at the end of the period.
Lexi Perry made the lead 12 at 49-37 with an inside bucket at 7:40 of the fourth period. McQuay made a basket for Walnut Ridge and was fouled at 6:58. McQuay made her free throw to cut the lead to 49-40. Lexi and Jay Perry got back to back inside baskets to make it 53-40 at 4:55. McQuay made two free throws for the Lady Bobcats before Poohnu scored on a fast break lay up making it 55-42 Lady Indians. Kelley made one of two free throws as did McElrath for Walnut Ridge making it 55-44 with 3:38 to play. Poohnu made one of two before McElrath made one of two setting the score at 56-45. Jay Perry scored on a lay up after passing it to Poohnu and Poohnu passing it right back for a 58-45 lead. Jay Perry got loose for another lay up at 1:59 pushing the lead to 60-45. Reel scored a lay up to make it 62-45 before Hannah Doane and Massey both a free throw a piece to set the final score at 62-47 Lady Indians.
"We looked like we've only played one game in the last 14 days," Marked Tree coach Derik Drewett said after the game. "I bet we missed 15 free throws and 10 lay ups," Drewett added.
Jay Perry led the Perry trio in double figures with 19 points, Poohnu had 17 points and Lexi finished with 14 points.
Hannah Massey led Walnut Ridge with 13 points and Caroline Kelley chipped in 11 points.
Asked about Poohnu, Drewett had this to say, "She's unbelievable! She had four or five easy lay ups and with passes to team mates. She opens up so much for the other players."
Marked Tree will play Weiner in the semi-finals. "We'll have to come and execute, they are good," Drewett said.