Lady Indians down Weiner to reach finals
Thursday, January 3, 2013
Marked Tree's Lady Indians got 55 total points from the Perry trio to down the Weiner Lady Cardinals and move on to the finals of the girls Division I NEA Invitational Tournament.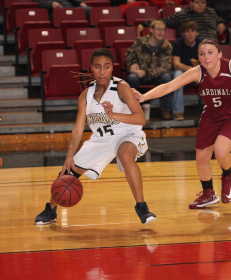 Weiner jumped out to a 7-0 lead in the first two minutes of the game. Allegra Melton was fouled after trying to make a basket off a steal and hit both free throws to put Weiner up 2-0. Peyton Craft made a lay up at 6:32 to make it 4-0. Melton worked her way inside and scored a basket and was fouled in doing so. Melton hit the free throw to put the Lady Cardinals up 7-0 with 5:51 left. Poohnu Perry stopped the run at she hit one of two free throws making it 7-1. Lexi Perry pulled down an offensive rebound and scored making it 7-3. Melton hit one of two free throws before Jaden Malone canned a three to make the lead 11-3 Weiner. Jay Perry for Marked Tree and Craft for Weiner traded inside baskets to make it 13-5 with 3:21 to play. Poohnu and Jay Perry ran off the next 12 points to give Marked Tree a 17-13 lead. Poohnu hit a jumper and Jay followed with a three from the left corner to make it 13-10 at 2:42. They repeated the performance with Poohnu hitting another jumper and Jay making another three from the right corner to make it 15-13 Marked Tree with 1:58 left in the first. Poohnu finished the Perry run with a lay up to make it 17-13 with 59 seconds left. Peyton Craft hit three of four free throws over the last 47 seconds to make it a 17-16 Marked Tree lead after the first period.
Dez Reel hit a jumper and Jay hit another three from the left corner to stretch the Marked Tree lead to 22-16 with 7:10 left in the second. Melton answered for Weiner with a three-pointer from the right wing making it 22-19. Poohnu made one of two free throws to make it 23-19 before Hunter Lewis got inside for a Lady Cardinals basket at 6:16 putting the score at 23-21. Poohnu got a shot to fall at 6:06 making the score 25-21. Craft hit one of two free throws for Weiner followed by six straight points from Marked Tree to make the score 31-22. Lexi Perry scored inside, Poohnu Perry hit a driving lay up and Lexi Perry scored inside again with 1:52 left. Melton hit two free throws followed by two free throws from Craft to make it 31-26. Peyton Carter hit a jumper with two seconds left to make it 33-26 Marked Tree at half time.
Lexi Perry got inside for Marked Tree for a basket to make it 35-26 Marked Tree. Over the next three minutes saw the Lady Cardinals cut the lead to three. Weiner got four points each from Craft and Melton as the Lady Indians got a basket from Jay Perry to make it 37-34. Jay Perry hit one of two free throws to start a 7-0 Marked Tree run and stretch the lead to 10 at 44-34. Poohnu Perry hit a jumper then made two free throws as Jay Perry made a lay up. Craft got a basket off an offensive rebound at 2:28 to make it 44-36. Caflora Hillis got inside for a Marked Tree basket as Lady Cardinal Melton answered with a basket inside to make it 46-38. Lexi Perry was fouled making a basket with 28 seconds left. Lexi's free throw made it 49-38 after the third period.
Melton opened the scoring in the fourth for Weiner as she grabbed an offensive rebound and put it back in making it 49-40. Marked Tree scored the next eight points as Jay Perry scored inside, Poohnu Perry hit two free throws and then hit a jumper followed by a steal and a lay up to make it 57-40. Weiner cut the lead to 10 with seven straight points. Lewis hit two free throws off a technical foul, Kaci Mack hit a jumper in the lane and Craft scored a basket on a fast break and was fouled. Craft's free throw made it 57-47 with 3:26 left to play. Jay Perry had back to back scores as she got inside for a basket and then stole the ball and scored on a lay up to make it 61-47. Craft hit one of two free throws to make it 61-48. Hillis hit two free throws at 1:46 before Weiner's Lexi Smith was fouled shooting a three and hit two of three free throws at 1:37 to make it 63-50. Jamaca Allan scored inside for Marked Tree to make it 65-50 at 1:20. Melton hit a baseline jumper at 55 seconds and Kathi Krossa hit a jumper with 17 seconds left to set the final at 65-54.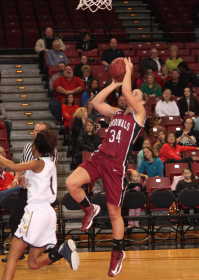 "We played good at the end, but got off to a slow start," Marked Tree coach Derik Drewett said after the game. "We cranked up the pressure, got turnovers and sped up the game which I didn't think they (Weiner) wanted to do. We controlled the tempo and got the ball up and down the court," Drewett added. Asked what he thought of Craft and Melton of Weiner Drewett said, "Anybody in the state would want them two on their team."
Weiner coach James Halitzka said this of his team, "We had spurts when we did not make good choices. We broke their press pretty good but turnovers and foul trouble hurt us."
Jay and Poohnu Perry both had 22 points for the Lady Indians as Lexi Perry added 11 points.
Allegra Melton tossed in 21 points for Weiner as Peyton Craft added 20 points.