Officials sworn in at Harrisburg
Sunday, January 6, 2013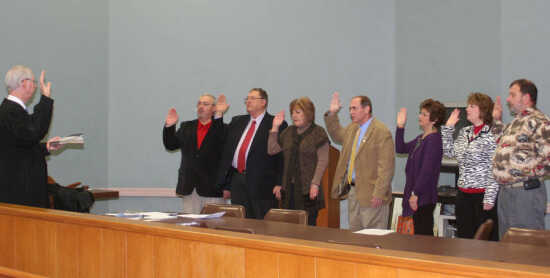 Several county officials, Quorum Court members, constables, and city officials were sworn in at the tenth semi-annual swearing in ceremony in Harrisburg on New Year's Day.
Circuit Judge Larry Boling performed the swearing in.
"It's always a privilege to perform a swearing in," Judge Boling said.
Before the swearing in, Judge Boling related the story of the prophet Daniel to those in attendance. He spoke about how Daniel and his companions served as public servants to the Babylonian government and remained true to their beliefs, values, and work ethics.
"In the worst of times, they stayed true to their principles. Even though they were captives of a foreign government, they gave good service to the government of Babylon. They determined to work harder, longer, and stronger and were successful in doing that. We have to admire people like Daniel, who give good public service," Judge Boling said.
"We're not in the same position Daniel and his companions were in. We don't serve a foreign government that has taken us captive. We serve our own people: our family, friends, and neighbors. The people that elected us do not expect a second rate effort from us. They expect us to follow the adage: anything worth doing is worth doing well," he said.
Judge Boling added that as public servants, they should all be motivated to do the best job possible. He encouraged everyone to follow Daniel's example to work harder, longer, smarter, and to do a better job as public servants. "This should be our goal: to be excellent public servants," he said.
Before the swearing in, Judge Boling applauded the officials present for taking part in the political process and serving their communities.