Community reacts to school board's prayer decision
Tuesday, January 8, 2013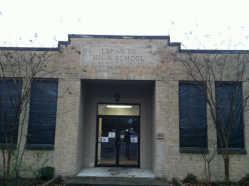 During the month of December, EPC school board responded to a Freedom From Religion complaint and stated they will no longer conduct prayers over loudspeaker before football games. This response has caused an uproar within the Lepanto community.
The issue began when EPC Superintendent Micky Pierce received a letter from the Freedom From Religion Foundation asking that the school stop prayer over the loudspeaker before games.
According to the Freedom From Religion Foundation's website, their purpose is to promote constitutional principle of separation of church and state and to educate the public on matters relating to nontheism. After the letter, Pierce spoke with Kristine Gould, a member of the Arkansas School Board Association, who recommended not performing the prayer over loudspeaker. The superintendent sent a letter back to FFRF indicating the school would stop the prayer over loudspeaker.
"The majority of the town was more in favor of the prayer before games," said Lepanto Mayor Steve Jernigan. "I don't understand the people complaining."
The issue was brought to FFRF's attention by one person at EPC. At the school board meeting, Superintendent Pierce said the person represented a group of people at EPC who felt public prayer before ball games was inappropriate.
A citizen of Lepanto, who did not wish to be identified, stated a small group of people should not be able to take the prayer out so easily. "We are a Christian nation despite how others may feel," said the citizen.
According to several former students, EPC has conducted the prayer over load speaker for many years. "It's been going on since I could remember, and I've been out of school for a while," said Patrick Nelson, a former student. "I really think it's wrong (that prayer before games is no longer allowed)." Nelson said he had heard a lot about the issue throughout the town.
Wesley Owens, a nonreligious citizen and former student of EPC, said he felt the school was being robbed of their rights, as well. "I think they should be at liberty to do whatever they want," said Owens. "It never bothered me to hear it. It's not like they were forcing us to do anything."
Many parents of the students at EPC do not agree with the decision. "It's really a shame they stopped," said Mary Cruz, mother of two EPC students. "I think we should keep God in our schools and our everyday lives."
Daniel Nooner, pastor of Revival Center Church in Lepanto, said he has really voiced his opinion on the subject. "I have spoken to representatives in Washington, but they are really not much help," said Nooner. "Until someone lets their voice be heard, they will not be able to do anything."
Nooner is working on his voice being heard not only for the prayer before games, but prayer within the schools. "Marijuana is being heard and voted about, there is no reason why prayer can't be heard," said Nooner. He stressed that prisons can hire chaplains, yet prayer and religion are banned from entering the school atmosphere.
The pastor, also, said the student body is deeply upset by the decision to stop the prayer over loud speaker. Several other pastors in the area disagree with it, as well. "As Christians, one by one everything is being stripped away," said Nooner.
Mayor Jernigan compared the issue between those in favor of and those opposed to the prayer over loudspeaker to a pendulum. "A pendulum always swings back and forth," said Jernigan. "It will swing our way eventually."
With the complaint from the FFRF, EPC school district really had no choice but to stop the prayer. EPC school board members did decide to replace the prayer over loudspeaker with a moment of silence. Some citizens have suggested that no one can really object if a student stands and prays aloud during the moment, for they are protected by the first amendment.