A look back at the top stories of 2012
Saturday, January 5, 2013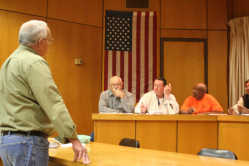 2012 saw its share of big stories in Poinsett County. The following are some of the top stories of the year.
One of the biggest stories of the year was the capital murder conviction of Jerry Lard in the shooting death of Trumann police officer Jonathan Schmidt during a traffic stop on April 12, 2011. After the venue for the trial was moved to Greene County, so a panel of jurors who were less familiar with the details of the case could be sought, the trial continued for two weeks in late July.
Jurors ultimately found Lard guilty of capital murder, attempted capital murder, and possession of methamphetamine. They voted unanimously for him to be put to death by lethal injection. Circuit Judge Brent Davis set Lard's execution date for April 12, 2013, two years to the day after the killing.
In Trumann, the city hired Chad Henson as the new police chief after Tony Rusher resigned from the position in February. The resignation came after an investigation into alleged theft of prescription medication from the police department evidence room. According to a report released by the mayor's office, Rusher admitted taking the pills, saying they had been through court and were going to be destroyed. He also told investigators he was hooked on hydrocodone and wanted to seek help for the addiction.
Mayor Sheila Walters, with the city council's approval, later fired Detective Erik Willbanks who, during the investigation of Rusher's actions, said he had seen Rusher take drugs from the evidence room on numerous occasions but didn't report it since Rusher was his superior. In September, Willbanks filed suit against Mayor Walters and the city council, alleging he had been wrongfully terminated.
After facing numerous trash pickup problems with Delta Environmental, the company which had been in Chapter 11 bankruptcy for two years, Trumann's city council voted to end their contract with Delta so the city could take over trash pickup responsibilities. Lepanto and Tyronza attempted to get out of their contracts later in the year. Delta reached a tentative agreement with Tyronza but not with Lepanto. On Labor Day weekend, however, Delta Environmental converted to Chapter 7 bankruptcy releasing the cities from their contracts. Lepanto Mayor Steve Jernigan said complaints about pickup have gone down significantly since Delta closed.
The city of Marked Tree had some drama of its own concerning the police chief position when Chester Ford was suddenly fired by Mayor Wayne Nichols in October over an ongoing disagreement between the two over the number of police officers needed. Citizens filled the courtroom at the November council meeting where Ford requested reinstatement. Six of the eight council members voted in favor of Ford's reinstatement, with two abstaining. However, a two-thirds majority was needed based on the council's total nine positions, one of which was vacant at the time. At December's meeting, a new council member was appointed, and a revote was called. This time, Ford's reinstatement was approved.
Marked Tree and Trumann School Districts both took a step in a new direction for learning this year as they began implementing the New Tech system. Students in both schools were provided with computers, with Trumann implementing the technology initiative school-wide, and more focus was placed on project-based learning, which has allowed for great collaboration between students, higher engagement, and an improved sense of the relevance of what they're learning.
Representatives from the Arkansas Game and Fish Commission and St. Francis Lake Association met in court for a hearing regarding the removal of permanent duck blinds from Wildlife Management Areas. The AGFC had bought the land in the 1950s, and SFLA maintained that an unwritten agreement allowing the blinds to remain indefinitely had been made at the time and AGFC was breaking that agreement with their plan to remove the blinds. The lawsuit was dismissed for improper venue but has since been refiled in Pulaski County, where it is expected to continue. AGFC is still under a temporary restraining order that prevents them from removing the blinds until the case has ended.
The city of Trumann received several grants this year, including a Delta Regional Authority grant of $206,000 and a federal block grant of $82,000. Together with money donated by the Sims family and money raised by Friday Night at the Show, Trumann is close to having the necessary funds to build the Sims/Talbot Adult Education and Worker Training Center. This center will offer basic adult education classes, industry workforce training, and will serve as a training center for local industries.
In Trumann one community landmark closed while in Marked Tree another one opened. Trumann's Maxie Theatre closed during the summer after longtime co-owner Jack Noel passed away. Noel's wife Pauline later donated the theatre to the Trumann Fine Arts Council. The theatre was built in 1946 and was placed on the National Register of Historic Places in 2011.
In January former county judge Bill Craft opened Youth Outreach Ministries to offer a faith-based after school program for children that provides tutors, recreation, and hot meals.