Snow falls on Poinsett County
Friday, January 4, 2013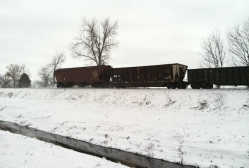 The first snow fell on Poinsett County starting on Christmas afternoon, Tuesday, Dec. 25. On Wednesday, many businesses closed due to the winter weather leaving families with an extra day off to enjoy time with each other. Some children got out and built snowmen, while others spent their time sledding.
The road conditions during the blizzard caused the Trumann Police Department to respond only to priority calls in the area. "Anytime a severe weather situation takes place, the police need to respond to only priority calls," said Trumann Police Chief Chad Henson. The reason for limited response from the department was to ensure safety of the officers. "If the officers were injured, then the department wouldn't be able to respond to anything," said Henson. "We will start doing this more readily when bad weather conditions are present."
The morning after the Christmas blizzard was when the fun began for the majority of the county. Several children out of school for the holidays enjoyed their day in the snow. With temperatures dropping on the night of Wednesday, Dec. 26, the snow went without melting until Friday, Dec. 28.