Ellen Lorene Creecy
Friday, January 4, 2013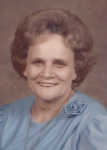 TRUMANN - Mrs. Ellen Lorene Creecy, 85, of Trumann died Wednesday, Dec. 19, 2012, at St. Bernards Medical Center in Jonesboro. She was born in Leachville, Ark., to the late Paul and Frances Lansford Nichols. She had lived most of her lifetime in Trumann and was a homemaker and of Pentecostal faith.
She was preceded in death by her husband Willie James Creecy; one daughter, Linda Householder; four sisters, one brother and her parents.
She is survived by three daughters, Carolyn Scrape, Barbara Green, and Shirley Barnett, all of Trumann; two sons, Billy Creecy and Jimmy Creecy, both of Trumann; one brother, John Williams of Vardaman, Miss.; one sister, Maxine Tyler of Trumann; 16 grandchildren, 17 great-grandchildren, and three great-great-grandchildren.
Funeral service were 2 p.m. Friday in the chapel of Thompson Funeral Home in Trumann with Bro. Jerry Vinson officiating. Private burial followed in Jonesboro Memorial Park in Jonesboro.
Visitation was Friday from noon to 2:00 p.m. at Thompson Funeral Home.
An online guest book can be signed at www.thompsonfuneralhome.net.