Glen Russell "Mike" McMullin
Friday, January 4, 2013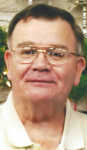 HARRISBURG (CENTRAL COMMUNITY) - Mr. Glen Russell "Mike" McMullin, 66, of the Central Community died Monday, Dec. 24, 2012, at NEA Baptist. He was born in Tyronza, Ark., and had lived most of his lifetime in Central Community. Mr. McMullin was retired from DuPont Corp. and was a member of Central Community Church. Glen loved watching old westerns, his favorite Gunsmoke, and spending time with his family.
He was preceded in death by parents, Isaac and Lela Lucille Lee McMullin.
He is survived by his wife of 47 years Katherine Blasingame McMullin; one son, Michael Glen McMullin (Debra) of Trumann; one grandson, Michael Kevin McMullin of Harrisburg; three brothers, Isaac McMullin (Mary Ann) of Amory, Miss., Billy Joe McMullin (Judy) of Paris, Ark., Larry McMullin (Carolyn) of Trumann; four sisters, Juanita Germany of Memphis, Tenn., Virginia "Jen" Johnson of Haughton, La., Jane Brown (Ken) of Dunnellon, Fla., and Myra "Kathy" Condra (Bobby) of Trumann; extended family, Johnny and Jessie Sutterfield and Corbyn McMullin, the Blasingame family, and a host of nieces, nephews and friends.
Funeral services were 10 a.m. Friday, Dec. 28, in the chapel of Thompson Funeral Home with Rev. Milton Cowling officiating. Burial followed in Harrisburg Memorial Park in Harrisburg.
Pallbearers were Jan Morgan, Stacey Williams, Terry Don McMullin, Terry Kevin Long, Charles Mitchell, James Lyons, Christopher Nance, Billy Reithbaum, and Shane Blasingame.
Visitation was from 5-7 p.m. Thursday at Thompson Funeral Home in Trumann.
An online guest book can be signed at www.thompsonfuneralhome.net.