Patricia Ann Spence
Friday, January 4, 2013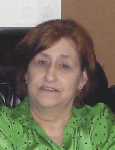 TRUMANN - Mrs. Patricia Ann Spence, 65, of Trumann died Tuesday, Dec. 11, 2012, at the family residence. She was born in Pocahontas, Ark., to the late Elmer and Pearlie Cook-Reed and had lived her lifetime in Trumann. Mrs. Spence retired from Monroe Shocks in Paragould and was a member of Calvary Baptist Church
She was preceded in death by two brothers, Junior Reed and Lonnie Reed and her parents.
She is survived by her husband of 48 years, Junior Spence of the home; four sons, Ricky (Naomi) Reed, Kevin Spence, Scotty (Sandra) Spence, all of Trumann, and Jerry Turner of Phoenix, Ariz.; one daughter, Cynthia Turner-Mattix (Eddy) of Trumann; three brothers, Ricky Reed and Don Reed, both of Pocahontas, and Billy Reed of Jonesboro; four sisters, Sharon Barber, Shelia Reed, Janette King, and Jaquita Gee; nine grandchildren, Candice Chaffin, Zachary Mattix, Josh Spence, Haley Reed, Krystal Reed, Lucas Spence, A.J. Spence, Gunner Spence and Kayla Spence; and six great-grandchildren, Cole Chaffin, Ethan Chaffin, Ryleigh Mattix, Creed Mattix, Chloe Zitzelberger, and Hayden Zitzelberger.
Graveside services were 2 p.m. Saturday at the Oaklawn Cemetery in Jonesboro with Rev. Austin Missey and Rev. Bobby Brooks officiating. Burial followed with Thompson Funeral Home of Trumann in charge.
Pallbearers were Zachary Mattix, Josh Spence, Greg McPherson, Adam Zitelberger, Seth Glidewell, and Joey Chaffin.
Honorary pallbearers were Gerald Hunt, Thomas Whitlatch and Jeff Campbell.
Visitation was from 1-2 p.m. Saturday at Thompson Funeral Home of Trumann.
An online register book can be signed at www.thompsonfuneralhome.net.