Officials talk economic development at meeting
Saturday, January 12, 2013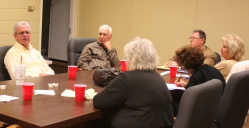 County and city officials met in Trumann this week for their quarterly Intergovernmental Cooperative Council meeting to discuss economic development and give updates on each city.
County Judge Charles Nix said the county's strategic plan for economic development as part of reNEW East Arkansas would be unveiled at 9 a.m. Jan. 17 at ASU-Newport in Marked Tree. He said two main problems that need to be addressed in getting the plan off the ground are financing and having a centralized location to coordinate economic development on the county level.
"We need to think in terms of a countywide organization to spearhead things," Nix said. He mentioned the possibility of having a county-wide Chamber of Commerce which the local chambers would work through while still being separate.
In city updates, Trumann Mayor Sheila Walters said she had met with the architectural firm that will oversee the construction of the detention pond to relieve flooding near Mulberry Drive and that bids would open for the project in February. She also said Barbara Lewallen was working a part-time Economic Development position for the city.
Lepanto Mayor Steve Jernigan said his city, like others, was struggling to maintain its budget. Regarding economic development, he said Lepanto is part of the Sunken Lands Chamber of Commerce, which is working on the Johnny Cash Boyhood Home project in Dyess. Jernigan hopes once the museum and boyhood home project is completed, Lepanto and Tyronza will see some tourism overflow to sights like the Painted House, the Lepanto Museum, and the Southern Tenant Farmers Museum.
Another problem Jernigan talked about was heavy wear on the bridges in Lepanto caused by trucks passing through with loads for the barges in Osceola. He said he spoke with State Representatives Wes Wagner and John Hutchison when they visited the American Legion recently. He added the garbage problem has gone away since Delta Environmental closed and the city switched to Dedman's Sanitation.
Harrisburg Mayor Randy Mills said his city had received a grant for a Veterans Park which will have a mural, gazebo, and a spot for a community Christmas tree. He also said the city had just gotten the Code Red weather warning system. He noted it would have cost the same for the system to cover just Harrisburg as it would Harrisburg and the western side of Poinsett, so they opted for the larger coverage, saying the smaller cities in that area could sign up for the program while Harrisburg takes care of the bill.
Tyronza Mayor Marion Bearden said several buildings had been purchased and were in the process of renovation. Among them, the old grocery store was bought by Keith Forrester to be turned into a restaurant. Forrester owns the Trolley Stop Market in Memphis. Bearden said the Tyronza restaurant would be similar to that one and it may be several months before it is opened. She hopes the Tyronza Senior Center building will be completed in February and mentioned the Stars and Stripes Festival had been nominated for Festival of the Year for 2012. She added a concealed carry class would take place at the Tyronza Fire Station at 9 a.m. Saturday, Jan. 5.
Waldenburg City Clerk Jean Copeland said her city is working hard to get a dollar store. She said the main reason is the lack of places to shop between Newport and Harrisburg. Waldenburg has a new restaurant, Crossroads, and a new flea market. The city is also trying to get a grant to renovate city hall but has been turned down twice.