Tyronza City Council hears from EPC superintendent regarding prayer decision
Sunday, January 13, 2013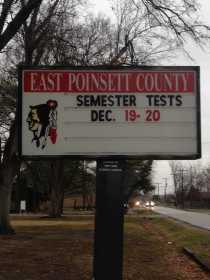 Superintendent Michael Pierce addressed the Tyronza City Council, and several Tyronza residents, this week regarding EPC school district's recent decision to end prayer over loudspeaker before football games.
He showed the council copies of a letter he received from Freedom From Religion Foundation attorney Patrick Elliot, which urges the district to end prayer over the loudspeaker.
The reason given in the letter for this was that "religious messages delivered and displayed at football games constitute an unconstitutional government endorsement of religion...religious messages offered at school-sponsored events would lead anyone participating on the team or in attendance to believe that the District is endorsing religion. They show preference for religion over non-religion and for Christianity over all other religions. This alienates the 15 percent of Americans who are non-religious."
Superintendent Pierce told the council he contacted the school board attorney who told him the law was clear on the matter and strongly recommended discontinuing the practice.
A school board member present at the meeting said the decision had not been an easy one, that the board hated to do it and felt backed into a legal corner.
Superintendent Pierce said this would only affect prayer over loudspeaker during football games at EPC. "There are no other policies regulating school prayer," he said.
"We're unhappy about it," Mayor Marion Bearden said. "It's time for Christians to take a stand. Communities are going to have to stand up and make a difference.
In other business, the council:
*approved the Planning and Zoning Committee members.
*approved selling equipment the city does not use in a public auction. This includes a mosquito spray rig, a street sweeper, a Rhino finishing mower, and a 1996 Dodge truck.
*passed an ordinance adopting the 2013 budget.
Mayor Bearden announced there will be a public meeting at 6:30 p.m., Tuesday, Jan. 15, at city hall regarding the senior citizen building under construction. She said the USDA will be at the meeting and encouraged people to attend.