Lady Wildcats downed at home by Pocahontas
Friday, January 18, 2013
The Trumann Lady Wildcats hosted the Pocahontas Lady Redskins in a 4A-3 varsity girls' game this past Monday at Wildcat Gym. The Lady Redskins broke an 8-8 tie after the first period with 16-6 second period on their way to a 49-35 win.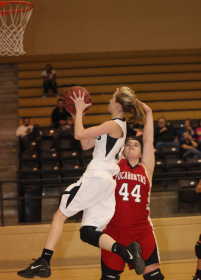 Trumann jumped out to an early 5-0 lead after Kail Bo Conaway grabbed an offensive rebound and scored before Hannah Walters got inside for a basket and was fouled. Walters' free throw was good making it 5-0 at 6:20. Hannah Lakey of Pocahontas was fouled by Megan McGowan and hit both free throws to make it 5-2 Trumann. Katie Martin cut the lead to 5-4 for the Lady Redskins as she got inside for a basket. Lakey gave Pocahontas a 6-5 lead at 4:38 with an inside score. Kelly Guthrie hit the first of her five three-pointers on the night to make it 8-5 Lady Wildcats. Laura Junkers field tied the game up with 57 seconds left at 8 and that was the score at the end of the first.
Pocahontas opened the second period with a 7-0 run to make the score 15-8. Rachel DeClerk started the run with a basket inside followed by a lay up from Kate Junkersfield. Junkersfield netted a three-pointer to finish the run. Megan McGowan hit a jumper and then connected on a three to cut the lead to 15-13 Pocahontas. Laura Junkersfield hit one of two free throws before DeClerk scored inside again for the Lady Redskins making the score 18-13. Mary Blanchard canned a three at 2:03 for Pocahontas making it a 21-13 lead. Courtney Blatz hit one of two free throws to set the score at 22-13 Lady Redskins. Morgan Taylor hit one of two free throws for Trumann before Kyle Kirk hit two free shots for Pocahontas to make the score 24-14. The Lady Redskins took that 10 point lead to halftime.
Guthrie hit a three to start the third period to cut the lead to 24-17. The Lady Redskins responded with a 9-0 run. Blatz scored inside and was fouled by Guthrie. Blatz' free throw was good making it 27-17. Martin and Kate Junkersfield both hit one of two free throws and Lakey hit two free throws making it 31-17. Kirk finished off the run by getting inside for a basket at 2:38 to make it 33-17. Guthrie nailed a three-pointer at 1:47 to make it a 31-20 game. Baltz hit both free shots after being fouled before Guthrie canned another three making the score 35-23. Kirk scored off an offensive rebound and Baltz hit two more free throws to set the score after three periods at 39-23.
Amber Kent hit two free throws at 7:40 of the fourth period to make the score 39-25 Pocahontas. Pocahontas got two free throws from Blanchard and a lay up from DeClerk to push the lead to 43-25. Conaway scored inside and Guthrie hit a three from the left wing to cut the lead to 43-30 Lady Redskins. Jessica Seagraves hit a jumper for Pocahontas at 1:57 before Kent hit two more free throws for the Lady Wildcats making the score 45-32. Seagraves hit one of two for Pocahontas and Morgan Taylor hit one of two for Trumann to make it a 46-33 game with 1:12 left. Ashley Theilemier hit one of two free throws and Kari Presley hit two free throws pushing the Pocahontas lead to 49-33. Conaway got inside for a basket for Trumann with 22 second left to set the final score at 49-35.
Guthrie led the Lady Wildcats in scoring with 15 points on the night.
Pocahontas was led by Baltz with eight points as 11 players scored for the Lady Redskins.