Marked Tree Council approves 2013 budget
Saturday, January 19, 2013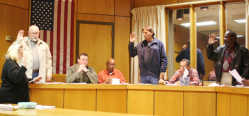 The Marked Tree council approved the proposed 2013 budget at this week's monthly meeting, along with changes suggested during a Dec. 13 budget meeting.
The budget is tight with $2,202,709 in expenditures and $181,682 in excess receipts.
"We cut everything we could possibly cut," City Clerk Pam Wright said. "This is about as low as I could get it."
Changes made at the budget meeting that the council approved include taking out 2 percent raises, lowering the mayor's salary to $12,000, doing mosquito spraying during work hours and on fewer days, increasing rent on the daycare facility from $150 to $350, and not paying city officials for special meetings.
In other business, the council:
* adopted an energy code ordinance recommended by the Municipal League. The code establishes rules and regulations for energy efficient standards that apply to new construction projects.
* approved a resolution in support of statutory amendments authorizing improvements in the information provided to local governments by the state concerning collections of local sales and use tax.
* approved $35,000 transfer from the Capitol Building Fund to the Industrial Fund for the railroad spur. Wright said the city has paid $169,000 to the contractor and still owes $94,000. "It's looking like our figure will be about on target," she said.