Marked Tree begins new breakfast program
Monday, January 21, 2013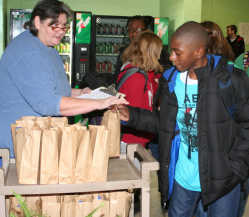 Marked Tree High School is hoping that its new breakfast program will help make breakfast more available to students while helping students to do better in class.
The new program, which the school started Jan. 9, offers bagged breakfasts for students to pick up before class free of charge. It is part of the No Kid Hungry campaign and provided through a Department of Education grant with food costs being absorbed by the district.
Principal Matt Wright said that in the first week alone the number of students eating breakfast at school doubled. "We averaged about 60 kids eating breakfast before the program. The first day of the program we fed 128 kids," Wright said. And he expects the numbers to go up as the kinks are worked out and students adjust to the new bell schedule.
"I think it will be a great program. The importance of breakfast can't be overstated. All the research shows that breakfast helps students pay attention and raises their scores."
Wright said the idea to implement the program came after state testing when the school made sure every student had breakfast because they recognized how important breakfast was for increasing attentiveness and saw how it raised test scores. "We thought, if we do this during testing, why not do it all year?" he said.
The breakfast initiative was approved by the school board last month for a trial period until Spring Break. At that point, after data has been collected on the program, the board will vote on whether or not to continue the program.
"We're looking at taking down some of the barriers that keep kids from eating breakfast," Superintendent Annesa Thompson said. "The bottom line is, if kids are not hungry, they'll be more attentive in class."