Pearce works actively with Alzheimer's
Friday, January 18, 2013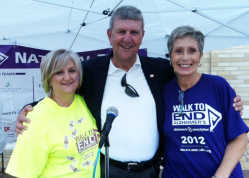 Sherry Pearce, admissions coordinator at Three River's Health and Rehab in Marked Tree, has had an active life working with one of the most common diseases in the United States--Alzheimer's.
"I became actively involved with Alzheimer's in 2008, when our company began," said Pearce.
She dealt with many patients who suffered from the disease, and wanted to know more about how they felt and dealt with life. She said that when patients came to Three Rivers with Alzheimer's, they were usually in the later stages of the disease.
"I had a patient who would look for her parents everyday, and I really did not know how to handle that," said Pearce. "That's what really got me more involved with the research behind Alzheimer's."
Pearce is currently the Alzheimer Ambassador to Congressman Rick Crawford. According to the Alzheimer's Association, ambassadors are volunteers selected to serve as the main point of in-district contact for a targeted member of Congress. Pearce plays an important role in helping the Alzheimer's Association meet its federal legislative goals.
Although Pearce works diligently with the association and patients with the disease, she plans to further her work and progress in the association.
"In April, I have plans to go to Washington to become an Advocate for Alzheimer's," she said.
According to the Alzheimer's Association, one in eight older Americans has Alzheimer's disease. In 2012, it was recorded that approximately 5.4 million Americans are living with the disease, including at least 800,000 who live alone. It is the sixth-leading cause of death in the United States and the only cause of death among the top ten in the United States that cannot be prevented, cured or even slowed.
"When other things like cancer has decreased, Alzheimer's has risen," said Pearce.
She said that Alzheimer's is expected to drastically rise within the next 10 years.
"With the disease being so common, we work hard to educate our staff in every way possible on how to deal with the patients," said Pearce.
Three Rivers staff goes through a Virtual Dementia Tour in which they wear special goggles and headphones. With the equipment on, they are asked to do five everyday tasks.
"It really helps them to get a feel for what it's like living in their [the patient's] world," said Pearce. "It's important for caregivers and family members to conform to their world rather than try to make them conform to ours."