James Elmer Overbey
Friday, January 18, 2013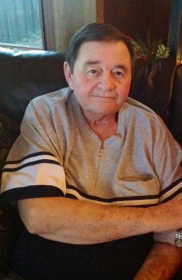 James Elmer Overbey, 67, of Payneway, died Sunday, Jan. 13, 2013 in NEA Baptist Hospital in Jonesboro. He was an Air Force veteran of the Vietnam War. He attended Centerview Methodist Church in Payneway.
He was preceded in death by his parents, Bill and Peggy Overbey, and his daughter, Susan Overbey.
He is survived by his wife of 46 years, Geraldine Overbey of the home; son, Scott Overbey of Payneway; and sister, Sandy Overbey of Lepanto.
Graveside services were Jan. 16 at the Marked Tree Cemetery with Mark Constant officiating.
Pallbearers were Nathan Cupples, Rob Cupples, Bob Jones, Robert Jones, Jeff Bookout and Allen Hicks.
Memorials may be made to Northeast Arkansans For Animals, C/O Wannda Turner, P.O. Box 10075, Jonesboro, AR 72403. Murphy Funeral Home was in charge of services.