Mary Orval Parnell
Friday, January 18, 2013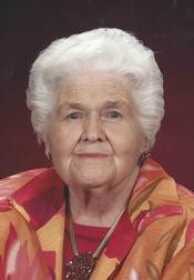 TRUMANN - Mrs. Mary Orval Parnell, of Trumann died Thursday, January 17, 2013 at NEA Baptist Memorial Hospital in Jonesboro at the age of 87 years, 3 months, and 14 days. She was born Saturday, October 3, 1925 in Corinth, Miss., to the late Bynam and Lillie Williamson DeLoach and had lived her lifetime in Trumann. Mrs. Parnell was a retired school teacher and a member of First Baptist Church in Trumann. She was preceded in death by her husband Howard Virgil Parnell, one son, Mark Parnell, one sister, Opal Lane, and her parents.
She is survived by one son, Ronald Howard Parnell of West Memphis, one daughter, Lynn Osment of Trumann, 5 grandchildren, Wesley Vance Osment, Charles Howard Osment, Emily Lynn Kain, Randy Parnell and Patrick Parnell, 7 great-grandchildren.
Funeral Services will be at 10 a.m. on Saturday, Jan. 19 at First Baptist Church in Trumann with Dr. Tad Rogers officiating. Burial will follow in Jonesboro Memorial Park Cemetery with Thompson Funeral Home in Trumann in charge.
Visitation will be Friday evening from 5-7 p.m. at First Baptist Church 1301 Hwy 69 in Trumann.
Memorials may be sent to First Baptist Church, P.O. Box 575, Trumann, AR 72472 and Trumann Public Library, P.O. Box 73, Trumann, AR 72472.
An online register book can be signed at www.thompsonfuneralhome.net.