Wildcats "D" leads to win
Friday, January 25, 2013
Trumann used a strong defensive performance this past Friday night to post a 59-42 4A-3 conference win over Highland at Wildcat Gym. "It was by far the best defensive game we've played all year," Trumann coach Skip Dulaney said.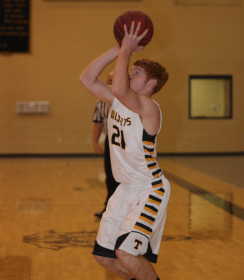 The first period saw six lead changes as neither team could pull away from the other. Spencer Stowers for Highland opened the scoring getting inside for a basket at 7:53. Cameron Jones tied the game up at 2 as he worked inside for a Trumann basket. Ethan Hoppe grabbed an offensive rebound for the Rebels and scored to make it 4-2 with 6:30 left. Nate Maxwell scored inside at 4:55 to tie the game at 4-4. A.J. Winningham hit the first of his six three-pointers at 3:33 to make it 7-4 Trumann. Hoppe scored back to back baskets for Highland to give the Rebels and 8-7 lead. Winningham drilled his second three of the period to give the Wildcats a 10-8 lead. Charlie Fuller answered with a three-ball for Highland to give the lead back to the Rebels at 11-10 with 1:36 left. Fuller hit a jumper with 34 seconds left to push the Highland lead to 13-10. Winningham canned his third three-pointer of the period from the left wing with 10 seconds left to leave the teams tied at 13-13 after the first period.
Highland scored the first two baskets of the second period as Cody Odell stole the ball and went in for a lay up and then Odell got inside a minute later and scored to make it 17-13 at 6:21. The Wildcats answered with a 13-0 run to make the score 26-17 with 1:15 left. Maxwell scored inside before Jones made a lay up and was fouled by Spencer Stowers. Jones' free throw was good to give Trumann a 18-17 lead. Grayson Dye and Winningham hit back to back three-pointers to make it 24-17. Winnigham worked inside for a score to finish the Wildcats run. Odell hit one of two free throws for Highland and Fuller hit a baseline jumper with 31 seconds to cut the lead to 26-20. Jones was fouled by Avery Johnson and hit both free throws with one second left to send the teams at half with the score 28-20 Trumann.
Highland's Odell opened the third period with a lay up at 7:16 to make it 28-22. Jacob Brumley scored inside for the Wildcats to push the lead to 30-22. Highland's Odell hit back to back three-pointers to make the score 30-28 with 5:43 left to play. Winningham hit a a baseline jumper for Trumann to make it 32-28. Odell made two free throws for the Rebels after being fouled by Dye with 4:17 left in the period making the score 32-30. Maxwell made it a four point lead for Trumann as he scored inside to make it 34-30. #24 grabbed an offensive rebound for Highland and put it back up and in before Hoppe scored in side to tie the game at 34 with 2:46 left. Jones got inside for a score and then hit one of two free throws after being fouled by Johnson making it a 37-34 game. Odell hit a jumper in the lane with 36 seconds left before Winningham buried a three-pointer with three seconds left to make it 40-36 after the third period.
Winningham drilled his sixth three from the top of the key to open the fourth period and make it 43-36. Odell cut the Trumann lead to five at 43-38 with a jumper at the 7:12 mark. Maxwell was fouled by Spencer Stowers and hit two free throws to give the Wildcats a 45-38 lead. Dye came up with a steal and took it in for lay up and a 47-38 Wildcats lead. Hoppe scored off an offensive rebound for Highland to make it 47-40 with 5:16 left to play. Trumann scored the next six points as Winningham and Brumley made back to back inside baskets and Dye hit free shots after being fouled to make it 53-40. Hoppe worked his way inside for Highland and scored to make it a 53-42 game before the Wildcats ended the game on a 6-0 run. Jones made four consecutive free throws for Trumann to make it 57-42. Quan Lawless got free for a lay up to set the final at 59-42 Trumann.
"Overall just a great team effort," Dulaney added after the game. "A.J. (Winningham) had the hot hand tonight and Jones did a good job of finding him," Dulaney said.
Winningham led all scorers on the night with 24 points for Trumann. Jones added 14 points for the Wildcats.
Odell led Highland with 19 points and Hoppe pitched in 12 for the Rebels.