Parkin Archeological Park celebrates MLK Day
Friday, January 25, 2013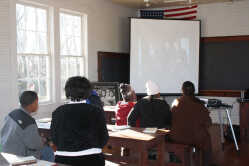 The Parkin Archeological State Park celebrated Martin Luther King, Jr., Day by playing many of his speeches in the Northern Ohio Schoolhouse on Monday, Jan. 21. This was the first year for the park to have this event.
The event was held in the Northern Ohio Schoolhouse because it was previously a one room African American schoolhouse in he early 1900's. According to Melissa Harvey, the park interpreter, most of the children who attended the one room school had parents who worked in the Ohio Sawmill. The school closed in the 1940's, and became a house before being purchased by the park.
"Since it was an African American school, the park tries to get more coverage on the building and hold events pertaining to black history," said Harvey.
For MLK day, the park provided transcripts of Dr. King's speeches to go along with the audible speeches, as well as, biographies of his life.
"Everyone is familiar with his 'I have a Dream' speech, but there are so many others that are just as great and inspiring that we wanted to expose the public to," said Harvey.
Callie Caradine-Jones, an attendee of the event and originally from Parkin, was grateful for the event in honor of Dr. King.
"Today represents a time in history that I can reflect on and celebrate a man who did so much for all Americans," said Jones.
As a young girl, Jones attended Central High School in Parkin. She remembers segregation and integration vividly. "I was alive when restaurants had one side for blacks and one side for whites," said Jones. "At movies, we sat at the top on the balcony while whites sat on the bottom. Dr. King inspired me most because he lived all those things he talked about just like I did."
Jones favorite speech by MLK was his "I have a Dream" speech. She said that attending events in honor of him, such as the one in Parkin, was very sentimental to her, because it was a part of history that she lived.
"These great people like Dr. King and the Little Rock Nine stood for their rights, and they are relatable," said Jones. "They endured the things we endured, and enjoyed the things we enjoyed."
On April 4, 1968, Jones remembers sitting in her 11th grade classroom listening to the news that Dr. King had been shot.
"He was our hero, and I remember thinking about where are we going to go from here as a nation, and what are we going to do," said Jones. "It was very devastating, but it was comforting to know he did not die in vain."